Oscar Predictions – Math Style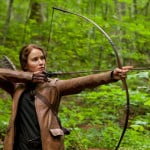 May the odds be ever in your favor!
Dr. J. stumbled upon Nate Silver's (yes that Nate Silver) Oscar predictions for this year. He worked his fancy math on the Oscars just like he did to predict the 2012 election more precisely than the rest of us did. His blog article is worth the read:
So our method will now look solely at the other awards that were given out in the run-up to the Oscars: the closest equivalent to pre-election polls. These have always been the best predictors of Oscar success. In fact, I have grown wary that methods that seek to account for a more complex array of factors are picking up on a lot of spurious correlations and identifying more noise than signal. If a film is the cinematic equivalent of Tim Pawlenty — something that looks like a contender in the abstract, but which isn't picking up much support from actual voters — we should be skeptical that it would suddenly turn things around.
Just as our election forecasts assign more weight to certain polls, we do not treat all awards equally. Instead, some awards have a strong track record of picking the Oscar winners in their categories, whereas others almost never get the answer right (here's looking at you, Los Angeles Film Critics Association).
These patterns aren't random: instead, the main reason that some awards perform better is because some of them are voted on by people who will also vote for the Oscars. For instance, many members of the Screen Actors Guild will vote both for the SAG Awards and for the Oscars. In contrast to these "insider" awards are those like the Golden Globes, which are voted upon by "outsiders" like journalists or critics; these tend to be less reliable.
As a consequence, his predictions are:
Best Picture – Argo
Best Director – Spielberg
Best Actor – Day-Lewis
Best Actress – Jennifer Lawrence
Best Supporting Actor – Tommy Lee Jones
Best Supporting Actress – Anne Hathaway
Best Picture – Lincoln
Best Director – Spielberg
Best Actor – Jackman
Best Actress -Jessica Chastian
Best Supporting Actor – Tommy Lee Jones
Best Supporting Actress – Anne Hathaway
Best Animated Feature – Wreck It Ralph
Best Animated Short – Paperman
May the best man win, though be forewarned Nate's election prediction was closer than any of your Gormogons…