Is that a promise…or a threat?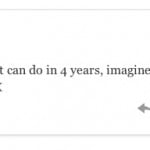 Michelle Robinson Obama tweets:
Dr. J. can imagine:
$22T in debt
8% Unemployment in perpetuity
A Vulnerable Security Posture
The People's Republic of Moon & Mars
$4 Gasoline
Higher Electric Bills
Doctor's Office Lines Longer Than Gas Lines
Religious Charities Gone
Dr. J. could keep going. Twitchy
has
.
You better go vote, instead.