Dream Team vs. Delusion Team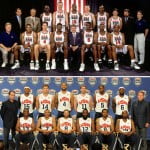 Dr. J. knows the Dream Team, the Dream Team are friends of his…Kobe, you are no Dream Teamer
Back in 1989, Dr. J. spent the summer with a family in Spain as part of an exchange. Dr. J.'s amigo, who we will call Diego was a big 'Neba' fan. When Dr. J. asked him what the hell a 'Neba' was he showed Dr. J. the cover of a magazine featuring Karl Malone…'ne-BA, baloncesto'. Neba is how the Spanish pronounce the NBA. Who knew, right? That's why Dr. J. did the exchange thing…
Given the string of poor American performances in the 1970s and 80s, including defeats in 1972 and 1988, and with 1980 (Moscow) and 1984 (LA without the Soviets) not really counting, Diego threw down the gauntlet while we were enjoying our midday meal. He intimated that American basketball is not what it used to be and in three short years we might even lose to an energized Spain as they host us in Barcelona.
Dr. J. chuckled and explained to the naive young man that we send college kids who've only played together for a few months to the olympics and that the Soviets, and other eastern bloc nations send essentially professional athletes under the guise that everyone in a communist country is an amateur (they're red army whose army duty is to play roundball for the greater glory of the Soviet Peoples). Dr. J. then went on (in Spanish, of course) to explain how
if
America sent the Denver Nuggets, Cleveland Cavaliers, or even the LA Clippers, we would win gold rather easily. And
if
, just
if
, we sent our 'Neba' all-stars, it wouldn't even be close. He mentioned that Spain had professional basketball players such as
Epi
and
Fernando Martín
.
Little did Dr. J. know that his little thought experiment (NBA All-Stars in the Olympics) would become a reality three short years later. Furthermore, Dr. J. had the privilege of watching the USA vs. Lithuania match from his first level seat in the Palau Municipal d'Esports de Badalona. Yes, he saw the Dream Team play live and in person. He only wished that his pal Diego could have been there to eat a little crow and enjoy the game with him.
While Dr. J. had not been much of an NBA fan since Julius Erving's retirement, the Dream Team was something else. The eleven best active players in the NBA (with the addition of Christian Laettner to carry their bags) were assembled by USA Basketball with one purpose, and one purpose only, to remind the world basketball is our game. They took their mission seriously and with purpose and they played to the best of their ability and more importantly, they played as a team.
Last night, Dr. J. was watching the USA play the Dominican Republic on ESPN. At half-time, ESPN was playing some highlights from an
interview with Kobe Bryant
.
"Well, just from a basketball standpoint, they obviously have a lot more size than we do — you know, with [David] Robinson and [Patrick] Ewing and [Karl] Malone and those guys," Bryant said. "But they were also — some of those wing players — were also a lot older, at kind of the end of their careers.
We have just a bunch of young racehorses, guys that are eager to compete. "So I don't know," Bryant continued, the trace of a smile beginning to play its way across his face. "It'd be a tough one, but I think we'd pull it out."
Since then he's suggested that they could win a game in a best of seven series. Sir Charles and Michael Jordan finds his statement laughable. Indeed, the round mound of rebound reminded Kobe:
Oh yeah, that's no disrespect. I ain't got to badmouth them. But like I said, their point guards weren't going to beat us. That's a no-brainer. [Regarding the age comments]
I just started laughing. How old is Kobe Bryant? He's 34? And he's calling us old? At the time, we were only like 28, 29. Michael Jordan and me were the same age. We were both 29.
Other than Kobe, LeBron (James) and Kevin Durant, I don't think anybody else on that team makes our team.
Dr. J. will add that over time, the NBA has continued to degenerate into 5 simultaneous games of one-on-one. The Dream Team did not only have the most athletic players, but they had truly smart players who went to Barcelona not only with their sneakers on, but with their thinking caps on. When they played, they were a league of their own.
That being said, if there was a team that could beat the Dream Team, maybe, just maybe, the 1960 Olympic Team had a shot. As Larry Bird suggests:
"I don't know who had the best team, but I know the team in 1960 was a hell of a lot tougher than we were. I couldn't imagine the '92 team getting in a covered wagon for eight days, going across the country, jumping in the Atlantic Ocean, swimming for six days, then walking 3,000 miles to the Coliseum in Rome for a dollar a day."