Is The Bloom That Far Off The Rose
GorT used to believe that Chris Matthews couldn't quit Obama. He was head over heels, cuckoo-for-cocopuffs, for the President. He was dismissive of much of the criticism, lobbed softballs when interviewing members of the Obama administration, etc. But on Saturday, Chris Matthews drops this:
Well, he has great analytical ability. Clearly has made the right judgments in his executive leadership. He has moved us very effectively in self-defense in fighting terrorism. I'm not sure he's able to move the country. He had that ability as a candidate, and then the day he was inaugurated, with the Mall filled with people, African-Americans and everyone else, he sent us all home. It was the worst mistake of his presidency. The day he got inaugurated, he sent us all home and said, "Thank you, now watch how smart I am." That's the worst kind of a notion of the presidency.

The presidency's not about being smart. Most of our great presidents have not been that brilliant. Kennedy wasn't brilliant. Roosevelt certainly wasn't brilliant. Truman wasn't. But what they did was they lead the American people. They lead us. This is so simple. If I could say one thing to Barack Obama, "Stop showing us how smart you are and lead us. Ask us to do something. Pull us behind you. Enlist us in the service of our country. Ask us to do something." There is no Peace Corps. There is no Special Forces. There is no 50 mile hikes. There's no moon program. There's nothing to root for.

What are we trying to do in this administration? Why does he want a second term? Would he tell us? What's he going to do in the second term? More of this? Is this it? Is this as good as it gets? Where are we going? Are we going to do something the second term? He has yet to tell us. He has not said one thing about what he would do in the second term. He never tells us what he is going to do with reforming our healthcare systems, Medicare, Medicaid, how is going to reform Social Security. Is he going to deal with long-term debt? How? Is he going to reform the tax system? How? Just tell us. Why are we in this fight with him? Just tell us, Commander, give us our orders and tell us where we're going, give us the mission. And he hasn't done it.

And I think it's the people around him, too many people around, they're little kids with propellers on their heads. They're all virtual. Politics, this social networking, I get these e-mails, you probably get them. I'm tired of getting them. Stop giving them to me. I want to meet people. Their idea of running a campaign is a virtual universe of sending e-mails around to people. No it's not. It's meetings with people, it's forging alliances. It's White House meetings and dinner parties that go on till midnight, and he should be sitting late at night now with senators and members of Congress and governors working together on how they're going to win this political fight that's coming.

I don't have a sense that he's ever had a meeting. I hear stories that you will not believe. Not a single phone call since the last election…They don't call. He never calls. That's the, that's the message. Members of Congress, I keep asking, "When did you hear from him last?"…He doesn't like their company. […]

But once having won the office he seemed to think that that was the end of it in terms of his connection to the American people. Don't you feel, I think everybody feels an absence of communication from the time he's been elected. And it's not about not being left-wing enough or too left. That's not his problem. It's connection. And Mrs. Obama, she's an amazing asset. And what has she done? Obesity? How about connecting with the American people about being Americans? I don't think she's, I don't think she's happy. I don't think they like being in the White House. The American people can tell that. They don't seem thrilled at the fact the American people have selected them as our first family. I don't sense the gratitude, the happiness level, the thrill of being president.
Ok, while I'll disagree with some of Matthews' assessments – I think it should cause the administration to worry. Even Chris freakin' Matthews is questioning them and for the first time in a long, long while, he's starting to hit on some threads that ring true.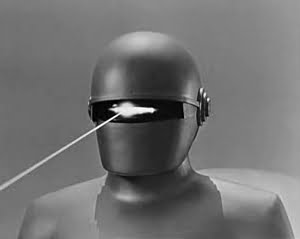 GorT is an eight-foot-tall robot from the 51ˢᵗ Century who routinely time-travels to steal expensive technology from the future and return it to the past for retroinvention. The profits from this pay all the Gormogons' bills, including subsidizing this website. Some of the products he has introduced from the future include oven mitts, the Guinness widget, Oxy-Clean, and Dr. Pepper. Due to his immense cybernetic brain, GorT is able to produce a post in 0.023 seconds and research it in even less time. Only 'Puter spends less time on research. GorT speaks entirely in zeros and ones, but occasionally throws in a ڭ to annoy the Volgi. He is a massive proponent of science, technology, and energy development, and enjoys nothing more than taking the Czar's more interesting scientific theories, going into the past, publishing them as his own, and then returning to take credit for them. He is the only Gormogon who is capable of doing math. Possessed of incredible strength, he understands the awesome responsibility that follows and only uses it to hurt people.