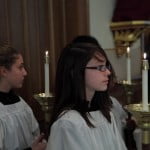 Well, then how come we manage to reproduce so effectively?
Seriously, though, 'Puter was turned onto this article in the Washington Post, regarding a Northern Virginia parish's retreat on the question of female altar servers. The friend who pointed out the article is a liberal nominal-Catholic, who proceeded to rip the Church for being backwards and hating women.
To explain to our non-Roman Catholic readers, altar servers assist the priest in the offering of the Mass. For example, they lead the entrance procession, usually carrying candles and crucifix. Altar servers also assist the priest during the Liturgy of the Eucharist, when the priest prays the Eucharistic prayers, which all Roman Catholics must believe transubstantiates the bread and wine offered into the literal body and blood of Christ. Traditionally, all altar servers were male, as are all our priests. In recent years (25 or so, which is recent in Church terms), American dioceses and parishes decided to permit female altar servers, primarily as a sop to the Church's left, in the name of "inclusion."
But the issue is not as simple as either my liberal friend or conservative Catholics make it out to be. This article from a more liberal perspective (though not slanted), and this one from a traditionalist perspective, explain the situation well. The Church's official position is that Canon Law 230.2 does not exclude females from being altar servers, but that it is traditionally a role filled by men so as to encourage young men to consider the priesthood. The Vatican permitted bishops to make the decision as to whether females may be altar servers, and many bishops left it up to individual parishes. So, in America, most parishes currently permit female altar servers.
Here's the nuts-and-bolts description of how female altar servers came to be:
In 1994 a document from the Pontifical Council for the Interpretation of Legislative Texts gave some room for the novel practice of "female altar servers" under political pressure from the U.S., but nevertheless insisted that "the obligation to support groups of altar boys will always remain…" due, of course, to the relationship between service at the altar and future vocations.
But the legitimacy of female altar servers is not a settled question. Paul VI (who implemented Vatican II, the Council much abused and loved by leftie Catholics) and John Paul II (a most beloved Pope by both left and right) were both against female altar servers:
Second, this practice of placing girls at the altar has absolutely nothing to do with Vatican II and was condemned in the strongest of terms twice following the council. In 1970 Pope Paul VI said in Liturgicae Instaurationes, "In conformity with norms traditional in the Church, women (single, married, religious), whether in churches, homes, convents, schools, or institutions for women, are barred from serving the priest at the altar."

And in 1980 Pope John Paul II stated in Inaestimabile Donum, "There are, of course, various roles that women can perform in the liturgical assembly: these include reading of the Word of God and proclaiming the intentions of the Prayer of the Faithful. Women are not, however, permitted to act as altar servers."
So while female altar servers are permitted as they are not expressly excluded under a legalistic reading of Canon Law 230.2, Catholic leaders plainly never intended that females serve at the altar.
Back to the subject of the Washington Post's article, Ms. Jennifer Zickel.
Zickel burst into tears and ran to the bathroom.

"I knew right then that our family couldn't stay at this church anymore," Zickel said, her voice breaking. "I'm a mama bear, and they're going after my girls."
And this is the point where I lost all respect for Ms. Zickel and knew that this article was nothing more than another excuse for liberal media to bash the Catholic Church. First, 'Puter doesn't know too many Catholic women who are (1) shocked at the Church's rules/position regarding women (2) so easily shaken by a known Church position that they flee to the ladies' room in tears at the enforcement of said position. Also, Ms. Zickel's female offspring, helpfully pictured in the article, are 7 and 4. Most parishes 'Puter's aware of don't let you be an altar server until you're around 10, so it should be a non-issue.
The Catholic Church is a known quantity, especially to its members. You can be absolutely irate about the role of women in the Church, but to act surprised by the Church's stance is a bit too precious. And to permit yourself to be used to attack an institution of which you claim to be a member is unacceptable.
Perhaps Ms. Zickel should reexamine her motives behind making an issue out of her parish's return to all-male altar servers. This is not about her daughters. It's about her, and about getting her own way.
'Puter hopes Ms. Zickel's pastor stands by his decision. To back off now would do nothing more than embolden Ms. Zickel and her ilk.
**'Puter also loves the reporter's lack of mockery for Ms. Zickel's use of a "mother bear" analogy. It's completely consistent with the media's tolerant, accepting reaction to Gov. Sarah Palin's "mama grizzly" quote. Bias? What bias?

Always right, unless he isn't, the infallible Ghettoputer F. X. Gormogons claims to be an in-law of the Volgi, although no one really believes this.
'Puter carefully follows economic and financial trends, legal affairs, and serves as the Gormogons' financial and legal advisor. He successfully defended us against a lawsuit from a liquor distributor worth hundreds of thousands of dollars in unpaid deliveries of bootleg shandies.
The Geep has an IQ so high it is untestable and attempts to measure it have resulted in dangerously unstable results as well as injuries to researchers. Coincidentally, he publishes intelligence tests as a side gig.
His sarcasm is so highly developed it borders on the psychic, and he is often able to insult a person even before meeting them. 'Puter enjoys hunting small game with 000 slugs and punt guns, correcting homilies in real time at Mass, and undermining unions. 'Puter likes to wear a hockey mask and carry an axe into public campgrounds, where he bursts into people's tents and screams. As you might expect, he has been shot several times but remains completely undeterred.
He assures us that his obsessive fawning over news stories involving women teachers sleeping with young students is not Freudian in any way, although he admits something similar once happened to him. Uniquely, 'Puter is unable to speak, read, or write Russian, but he is able to sing it fluently.
Geep joined the order in the mid-1980s. He arrived at the Castle door with dozens of steamer trunks and an inarticulate hissing creature of astonishingly low intelligence he calls "Sleestak." Ghettoputer appears to make his wishes known to Sleestak, although no one is sure whether this is the result of complex sign language, expert body posture reading, or simply beating Sleestak with a rubber mallet.
'Puter suggests the Czar suck it.