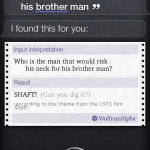 Dr. J. has not gotten his iPhone 4S yet. Due to his preexisting contract with Sprint, he can't officially order it until 11/1/11, but after using his powers of persuasion with the manager of the local Sprint store, he was kindly informed he can order it next Thursday. He intends to order one in Sith Lord Black for himself and one in Imperial Stormtrooper White for Mrs. Dr. J.
Nevertheless, Dr. J. has a friend in New Jersey who got his iPhone 4S first thing this yesterday morning. Dr. J. told him to ask Siri, the new voice response AI, the following questions:
Who's the black private dick who's a sex machine with all the chicks?
Who is the man who would risk his neck for his brother man?
Who's the cat who won't cut out when there's danger all about?
Now as you know, the answers are, Shaft, Shaft, and John Shaft.
Dr. J.'s friend in New Jersey actually did it, and emailed this back to him!
Let's see what Siri said:
Siri apparently has Wolfram Alpha as one of it's informers. Apparently, Dr. J. and his Jersey buddy aren't the only ones pushing the limits of Siri. There is now a website where you can post your shenanigans. Just beware, some of the content is rated R…
That's technology at its finest!