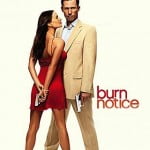 Recently, I've been impressed with the summer television options – more so than even the new fall offerings as of late. Here's a quick rundown on the shows that get viewed on one of the 4,328 screens in GorT's visual cortex:
| | |
| --- | --- |
| | Burn Notice is quite simply a fantastic show on the USA Network. A "burned" CIA spy is trying to determine who burned him and dumped him in Miami while passing the time helping those in need or victimized by criminals. Campy, exciting, interesting characters and plenty of good plot lines. Yes, you have to suspend some disbelief, but it's an entertainment show, not a documentary so move along. Somebody needs to tell Gabrielle Anwar to eat something, though. |
| Leverage is another fine show – this time airing on TNT. The ensemble cast with their quirks and storied backgrounds makes for one entertaining episode after another. The five main characters each bring a unique skill to the table and their group exercises a Robin Hood-esque revenge on criminals who took advantage of the regular Joes. Mrs. GorT enjoys "The Hitter" while GorT himself switches between "the Hacker" (ok, too obvious) and "the Thief". | |
| | Warehouse 13 seems to be a twist on the old Friday the Thirteenth series but this time it's historical artifacts that are cursed and sometimes used for criminal activities. Again, a great mix of characters really helps make this show. It's nice to see some unique science fiction on TV – even if it's on the weakly-named SyFy channel |
| GorT came in late to White Collar, this USA Network show, and once hooked, went back and watched the previous episodes. A top con-man/thief works for the FBI white collar crimes unit in NYC for the agent who caught him. They are developing some interesting subplots and present some nifty twists and turns in the episodes. Again, a suspension of disbelief is required but it will result in much entertainment. I've heard Matt Bomer is easy on the eyes for those female viewers out there. I will say that some of the bantering between characters reminds GorT of Sports Night, a canceled-too-early sitcom from the late 90s | |
| | Look, GorT has a soft spot for spy shows…even the bad ones (Three? Spies? etc). Covert Affairs has some serious problems – operations in the United States (hello, the CIA can't operate domestically), campy situations, impossible characters. I think they are still trying to figure out some of the subplots but for 40-some odd minutes of brainless TV, it's not bad. |
| Rizzoli & Isles had a rough start – the dynamic between the two leading ladies (Angie Harmon and Sasha Alexander) but I think that has eased a bit. It's a solid police mystery and, if you can get by the odd interaction between the two ladies, it's enjoyable. And, for the male viewers out there, Angie Harmon and Sasha Alexander are two attractive ladies. | |
| | Hmmm, currently the jury is out on SyFy's Alphas in the GorT household. GorT, jr. seemed to like the first episode. But parts were clearly forced. The re-emphasis of each of the alpha's abilities is heavy-handed. We'll see how it plays out. I gave No Ordinary Family a try but that fizzled…this one has potential, here's to hoping they pull out a winner. |
There are some other decent shows out there to be sure. But, I remain pleasantly surprised at the quality of the shows airing on these cable networks.
Note: the tag is an inside joke with some of the Gormogons….
GorT is an eight-foot-tall robot from the 51ˢᵗ Century who routinely time-travels to steal expensive technology from the future and return it to the past for retroinvention. The profits from this pay all the Gormogons' bills, including subsidizing this website. Some of the products he has introduced from the future include oven mitts, the Guinness widget, Oxy-Clean, and Dr. Pepper. Due to his immense cybernetic brain, GorT is able to produce a post in 0.023 seconds and research it in even less time. Only 'Puter spends less time on research. GorT speaks entirely in zeros and ones, but occasionally throws in a ڭ to annoy the Volgi. He is a massive proponent of science, technology, and energy development, and enjoys nothing more than taking the Czar's more interesting scientific theories, going into the past, publishing them as his own, and then returning to take credit for them. He is the only Gormogon who is capable of doing math. Possessed of incredible strength, he understands the awesome responsibility that follows and only uses it to hurt people.