"The most damaging spy in the history of NATO"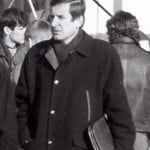 Everyone thought Hermann Simm deserved to be honored. It was Monday, Feb. 6, 2006, and he was dressed in his best suit to attend the day's event. He had been invited to Estonia's presidential palace to accept the "Order of the White Star" for his "service to the Estonian nation." It was an ironic choice.

It wasn't the only medal Simm received for his services that year. The other honor was one that he could only see on his computer screen, supposedly so as to not jeopardize his cover. Sergey Jakovlev, his handler with the SVR, Russia's foreign intelligence service, appeared on the screen to show him his medal. Jakovlev was also the one who informed Simm that he had been promoted to the rank of major general for having supplied Moscow with the names of all suspected and known Russians working as spies for NATO. Then-President Vladimir Putin was very impressed, Jakovlev told his best spy.

Don't ask impertinent questions like that jackass Adept Lu.