Thoughts on the Mother Emanuel AME Church Shooting
Mrs. GorT has plenty of extended family in Charleston, South Carolina and it's one of our favorite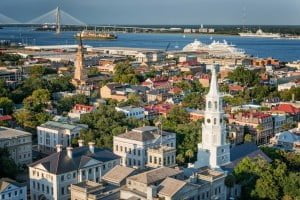 places to visit and vacation.  Since the tragic event, GorT has followed various news outlet reports (CNN, Fox [local affiliate], radio) and social media (Twitter, Facebook, blogs) and read and listened to what is out there and had a few thoughts.
First, let's be honest about the event: this is a heinous racial crime by a bigot who has no place in our society.  What he did was evil.  Period.  Treating it as anything less vile is a mistake.  Thinking that we shouldn't put some effort into addressing these issues.
Second, we can pass all the laws we want: more restrictive gun legislation, banning flags from the Civil War, etc. – none of which will address the problem.  It only addresses the symptoms or by-products.  Criminals will continue to seek and find illegal weapons.  Bigots will continue to believe and spout hatred.  Society needs to change.
John Stewart had what I would characterize as a heart-felt monologue about the shooting and a broad satirical statement about the likelihood that we, as a nation, will do nothing.  While he's right, he's also part of it.  Politicians – on both sides, pundits, news outlets, et al will either talk about it, or worse, complain but do nothing.  Stewart essentially complained about the problem.  President Obama essentially complained about the problem.  But while we continue to segregate the nation into groups: black, white, hispanic, latino, gay, straight, etc. – we will continue to have divisions. Politicians continue to paint with broad strokes like "the GOP is arming these killers" (a report this morning on CNN) but you see and know that many conservatives are just as outraged as this event.
Let's all pray for these families and really work in our daily lives to improve this country.  See the best in people and give your best.