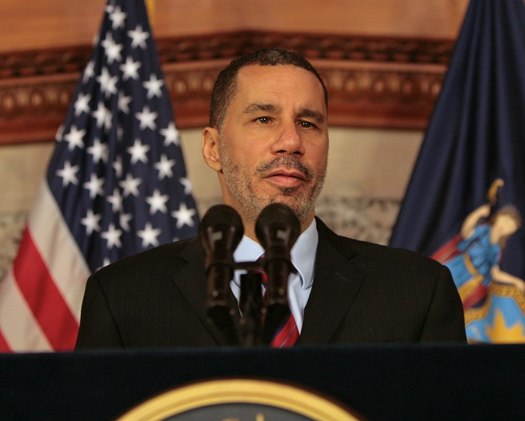 New York is in an awful hole. Years of overspending coupled with a shortsighted reliance on Wall Street revenues has led to New York's penury.
'Puter's no liberal Democrat, but he must respectfully concede that Gov. Paterson has successfully identified and stated for all to hear the problem. New York spends too much, taxes too much, and is now spending more than it can take in. However, Gov. Paterson's new budget does not address the root of the problem. Spending actually increases 1.1% over last year's budget (if cuts to the current year are included, spending decreases 0.5%). Real, meaningful cuts are necessary. Here's some freebies.
Paterson's budget proposes to set up a new pension tier, rather than calling on amending the Constitution to permit the government to amend all its pension tiers. Under New York's bizarre pension law (and Constitutional amendment), the state cannot take away pension benefits once offered, it can only add to them for existing employees. 'Puter's not advocating changing the pensions of current retirees, but it is fair to change the pension deal current employees have on a forward going basis. That is, New York should be able to say to its employees, you get to keep the benefits you've already accrued, but you're moving into a defined contribution plan going forward. No more defined benefit plans. So, if an employee has already garnered full pension benefits, she gets to keep them. If not, she keeps what she has (20 years, etc.), and then the state starts kicking in to a 403(b) for them. Welcome to the real world.
Also, Paterson should be cutting government employees. He mentions "rightsizing," but this appears to be a smokescreen, as the jobs he proposes to cut will be destroyed through attrition. Paterson should tell everyone whose job can be automated that they should start looking for work. This is a surprising number of people in many departments. New York has done a lousy job of using internet services for government transactions. See, e.g., the secretary of state's division of corporations. Paterson should also identify critical government functions and non-critical functions, and start laying off non-critical workers.
No one wants to cut health care and education. But how can you balance a budget if you effectively declare two-thirds of it sacrosanct? Paterson can make the easy argument that it's not debilitating to the poor to bring New York's Medicaid benefits into line with California's, which would be about a one-third cut. And for education, Paterson could take the appealing position that spending money on education is fine, but we need results, and the means to measure and incentivize the results. If as the unions claim, more money were the answer, every public school student in NYC would be geniuses. Insist on accountability for greater funding.
Paterson deserves immense credit for stating the truth. It's a start. However, his budget should have put the truth into operation. 'Puter will never have a socially conservative governor. It would be nice to have a fiscally conservative governor, though.
How about it, Dave?