Initiating Cortex Download
GorT has been slammed – work is crazy (in a good way…mostly), he has a senior in high school who is in the middle of the college search process, two others who along with the senior have been busy with the getting back in the swing of school and GorT is coaching soccer again this fall.  I've had a number of thoughts about posts over the last week or so, but figured I'd just do a quick dump on a few topics.
Item 1: September 11th
It's been 13 years and it is still eerie driving into Washington DC on my morning commute and seeing the flags at half mast.  We hired a recent college graduate who started a month ago and on a recent drive to lunch we passed the Pentagon.  He asked, "is that the side the plane hit?"  We went on to point out where and the car remained silent for a bit.  All of these types of small things are a constant reminder to me that there is evil in this world.  Until some significant change occurs, the Utopian thinking that comes from many liberals is naive and short-sighted.
They can say what they want about the Bush administration but it would be hard to argue that President Bush wasn't right when he said the following in 2007:
I know some in Washington would like us to start leaving Iraq now. To begin withdrawing before our commanders tell us we're ready would be dangerous for Iraq, for the region and for the United States. It would mean surrendering the future of Iraq to al-Qaeda. It would mean that we'd be risking mass killings on a horrific scale. It would mean we'd allow the terrorists to establish a safe haven in Iraq to replace the one they lost in Afghanistan. It would mean we'd be increasing the probability that American troops would have to return at some later date to confront an enemy that is even more dangerous.
Which leads me to item 2.
Item 2:  ISIS and President Obama
No, I didn't watch the speech last night but I've heard and read some commentary on it.  I primarily didn't watch it since I believe that President Obama lacks leadership.  He takes no responsibility for his actions or inactions and seeks to reason away or blame others.  His whole first term was nothing more than "it's all Bush's fault".  As of late, it's been the GOP in Congress' fault.  He really hasn't gotten out in front of an issue and led the country.  And when he does get involved in an issue, he has no experience or capability of negotiating or unifying the disparate parties resulting in his petulant behavior and governing via Executive Orders.  A position he was wholly against during his campaign.  The first part of last night's speech only reinforces this as it has been described as "defensive" – in essence saying that we've (the Obama Administration) has been taking action via the drone strikes over the last several years.
He has become a non-factor.  His approval ratings are low.  Some democrats are shying away from him and his policies for this mid-term election cycle.  And foreign leaders aren't buying what he's selling and discount the ability for the United States to commit and act in support of global events.  Meh.
Which leads me to item 3.
Item 3:  Apple's Big Day
So Apple had it's big day this week announcing several things but two of note: The iPhone 6 (and 6+) and the Apple Watch (seriously, it's not the iWatch??).  Look, Apple is catching up to the rest of the smartphone world with the iPhone 6 – particularly in the size department.  They were innovative when the iPhone first came out and maybe the first few generations, but Apple lost that momentum and other companies went to school on them and surpassed them.  I'm not quite sure the huge screen is warranted as I still view my smartphone as a: (1) phone to make calls, (2) a texting platform and (3) a means of quickly finding info – directions, addresses, trivia, etc.  It's not a multimedia or video playing device that I want to watch a 2 hour feature film on its 5″ screen.  So the iPhone 6 announcement is a decent step and big news for Apple.
The Apple Watch, however, is meh.  One can look at the daily stock tracker for Apple and it tanks when the Watch gets announced during the event.  Watches are pretty simple things – they decorate your wrist and tell the time.  A few do some additional things but in the end the important features are that it gets worn with some possible exposure to water, runs on batteries that last years or via simple wind up action, and tells the time.
The Apple Watch is huge…physically – I have dress shirts that I would have to wear the cuff unbuttoned to fit that thing on comfortably.  You need an iPhone to use it but the iPhone charging cable isn't the same one that the Watch uses to recharge.  For $350, I just don't see this as anything more that an attempt in a field where others have failed.  This isn't saying that Apple might get there someday…but this version isn't going to be the one to do it.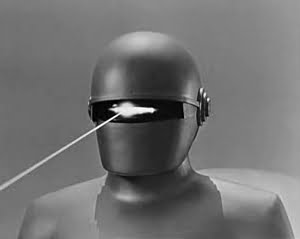 GorT is an eight-foot-tall robot from the 51ˢᵗ Century who routinely time-travels to steal expensive technology from the future and return it to the past for retroinvention. The profits from this pay all the Gormogons' bills, including subsidizing this website. Some of the products he has introduced from the future include oven mitts, the Guinness widget, Oxy-Clean, and Dr. Pepper. Due to his immense cybernetic brain, GorT is able to produce a post in 0.023 seconds and research it in even less time. Only 'Puter spends less time on research. GorT speaks entirely in zeros and ones, but occasionally throws in a ڭ to annoy the Volgi. He is a massive proponent of science, technology, and energy development, and enjoys nothing more than taking the Czar's more interesting scientific theories, going into the past, publishing them as his own, and then returning to take credit for them. He is the only Gormogon who is capable of doing math. Possessed of incredible strength, he understands the awesome responsibility that follows and only uses it to hurt people.