Science Fiction TV – Numbers 50 – 46
It's been a while since GorT (or others here) did a multi-part post/series.  We've had some memorable ones.  While this one may not become one, it's of interest to me and a few followers that I've traded emails with so here goes.
Over the next few days, I'm going to present a list of the top 50 "greatest science fiction TV shows*" of all time.  The source is a Popular Mechanics post**.  I'm not going to reorder it, but I'll apply some commentary on why I agree or disagree with their choices.  I invite our readers to chime in via Twitter or email as well.
Number 50: Thunderbirds

 
This 1960's British, ITV show filmed in Videcolor and using Supermarionation, was slightly before my time but I've seen a number of the episodes in re-runs of the series.  It used 9-inch high puppets with stylized sets and vehicle models (complete with firework sparkler-like "fire" for engine output).  GorT enjoyed the format but liked Captain Scarlet and the Mysterons better.  Regardless, this is a great choice for the top 50 and might even need to slide up a few spots.

Number 49: Land of the Lost

 
GorT absolutely watched this growing up.  With luminaries in the Science Fiction world like Larry Niven and Ben Bova contributing scripts, it is worthy of making this list.  Sure, it was super-campy and had some odd plots but it was fun to watch.  And heck, when you have someone so closely tied to it in the Castle, we'll have a soft spot for it.

Number 48: Space 1999

 
Another 1970's British, ITV show makes the list.  And yes, once again, it is a show that GorT watched growing up.  Season 2 got weird with the addition of the shapeshifting alien Maya (Catherine Schell).  I appreciated the reasonable design of the Eagles and actually had a toy one complete with crew as a child.  Rumors abound about a reboot of this series…we'll see.

Number 47: Six Million Dollar Man

 
We can rebuild him.  We have the technology.  Who in Generation X doesn't immediately recognize the bionic sound effect?  Spawning the Bionic Woman, and then such dreck as the bionic dog and various made for TV movies, it was an iconic show.  Again, it was must-watch TV for GorT.  Once Bigfoot and 'Puter's favorites, the Fembots, made appearances, it had jumped the shark.

Number 46: Dark Angel

 
This show essentially launched/propelled Jessica Alba's career and possibly Michael Weatherly's.  Better known for its visual composition that many follow-on shows mimiced (heck, it was James Cameron), the show was meh.  I'm not sure, aside from the visual factor, that it is worthy of making the top 50.  GorT watched the first season but fell out of watching it fairly quickly.
Tune in tomorrow for the next 5.  Same bat time*** same bat channel…or blog…whatever.
* "greatest" and "science fiction" are some subjective terms here so please take it with a grain of salt.  You'll see me object at times to either or both.  Clearly futuristic, space, alternative realities, enhanced technology, etc. all fall into what most people call science fiction.  As far as "greatest" – well, that's always a debate.
** PopMech was chosen because it had the list and did some amount of work behind it.  I'm just riding off that.  I might, over the course of this series of posts, re-rank these top 50 and make additions/subtractions of my own.
*** Ok, anyone who checks to see if I post at the same time is going to have a visit with the Mandarin.  Steel your gut in advance.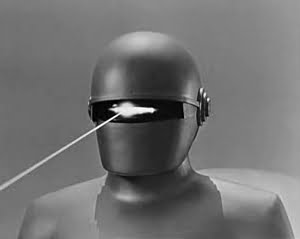 GorT is an eight-foot-tall robot from the 51ˢᵗ Century who routinely time-travels to steal expensive technology from the future and return it to the past for retroinvention. The profits from this pay all the Gormogons' bills, including subsidizing this website. Some of the products he has introduced from the future include oven mitts, the Guinness widget, Oxy-Clean, and Dr. Pepper. Due to his immense cybernetic brain, GorT is able to produce a post in 0.023 seconds and research it in even less time. Only 'Puter spends less time on research. GorT speaks entirely in zeros and ones, but occasionally throws in a ڭ to annoy the Volgi. He is a massive proponent of science, technology, and energy development, and enjoys nothing more than taking the Czar's more interesting scientific theories, going into the past, publishing them as his own, and then returning to take credit for them. He is the only Gormogon who is capable of doing math. Possessed of incredible strength, he understands the awesome responsibility that follows and only uses it to hurt people.