Nihil sub sōle novum: Futurismo edition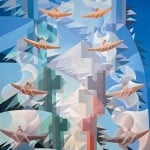 Via aldaily.com, "The Spirit of Youth":
Futurists like Pannaggi may have been trying to break civilization wide open. They may have declared a new age of speed and violence and radical newness. But as soon as they attempted to analyze that newness, as soon as they attempted to say something about their brave new world, they found themselves pulled back into history and tradition. Pannaggi wanted to show us that modern machines are unlike anything we've ever seen or experienced before. Then he created a painting that doesn't look radically different from Cézanne's paintings of Mont Sainte-Victoire, a mountain that has existed since before the dawn of the human species. Pannaggi wanted to paint the very essence of speed in the machine age. His painting, with its basic geometrical shapes, looks like a study in Platonic solids that could have come from the early Renaissance; something, maybe, by Paolo Uccello.

This inability truly to break out of the old ways must have been frustrating for the Futurists.

Newness, it turns out, is a trap. That is one of the essential discoveries of Futurism. Futurism was not the first movement to discover this trap. But the trap of newness is no less important for being discovered and rediscovered over the ages. That is part of the trap, after all. You rediscover something that has already been multiply rediscovered. What seemed brand-new at first, turns out, on further reflection, to be ancient.
The author points significantly to aspects of Futurism that are closely linked to that of Fascism: disdain for the past, love of technology, rejection of traditional morality. Heed.

Don't ask impertinent questions like that jackass Adept Lu.