Dodge, Duck, Dip, Dive and Dodge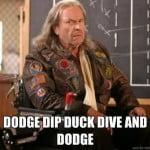 The liberals' team coach when debating GorT
GorT has two items today where liberals are, in my opinion, attempting to change the focus and distract the country from some key points.
The first is the ongoing narrative about global warmingclimate change. we've covered our stance before here so before you think we have our heads in the sand over this issue, go read the archives. Yes, it's really freakin' cold – particularly in the midwest and eastern parts of the country. We've all read and heard about the "Polar Vortex" (maybe that's Arnold's next antagonist – he is getting back into acting).
GorT's thought is that the liberals are seeing some pollswhere there is an increase in public skepticism over global warming and fear that their stance might end up on the losing side. Couple this with the record low temperatures in parts of the country – for the second time this winter – and you get people equating that to disbelief in global warming. Now we are starting to hear stories about how the polar vortex and this cold snap "fits" the climate change models. A case in point is this piece in the Huffington Post. It begins with:
The past several days have seen much of the United States gripped by freezing temperatures as the northerly jet stream pushed Arctic air south across North America. This has provided fuel for global-warming sceptics, even as scientists debate whether the extreme cold might in fact be a consequence of a warming climate. Nature takes a look at the underlying science.

The eastern United States has experienced a number of severe winters in recent years. Does this undercut global-warming theory?

No. Extreme weather of all sorts is part of the climate system, and the effects of global warming are projected to play out over decades to centuries. If anything, some researchers think that strong Arctic warming can contribute to extreme cold snaps.
Ok, so one would expect some support lended to that last statement, right?
It continues with:
Do scientists agree that Arctic warming could be driving these weather patterns?

These ideas are hotly contested. The exact mechanisms at work are not clear. Some researchers say it is just as likely that warmer air currents from the south could be destabilizing the jet stream. If Arctic warming were to blame, the effect should be the strongest in the northern hemisphere's summer and fall, says Kevin Trenberth, a climate scientist at the National Center for Atmospheric Research in Boulder, Colorado. Moreover, Trenberth says, it is unclear how this seasonal warming effect would persist into the dead of winter.

Is this kind of unstable jet-stream activity on the rise?

Probably not, according to research published in September by Elizabeth Barnes, an atmospheric scientist at Colorado State University in Fort Collins. Barnes' analysis of data from 1980 to 2011 found no evidence that this kind of weather system is increasing in frequency. She also did not find any connection between a warming Arctic and a meandering of the jet stream.
A bit contradictory, no? When you combine the facts, supported by recent releases by NOAA and NASA, that there has been no significant increase in the global temperature over the last 15 years, and that is 0.3°C under the IPCC prediction, it leaves you wondering what's going on?
Fear not, GorT has the answer. The IPCC report is a summary of reports and studies that use data models to forecast the climate. These models are flawed and don't account for all the variables involved in the Earth's climate. We just don't know enough. It is possible – and some scientists support this notion – that we are headed for a mini ice age. Remember the predictions back in the 1970s – the ones significant enough to make the cover of Time magazine? Well, they might be right.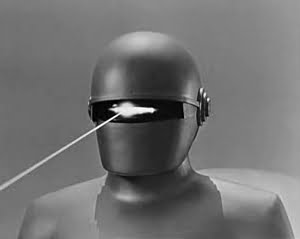 GorT is an eight-foot-tall robot from the 51ˢᵗ Century who routinely time-travels to steal expensive technology from the future and return it to the past for retroinvention. The profits from this pay all the Gormogons' bills, including subsidizing this website. Some of the products he has introduced from the future include oven mitts, the Guinness widget, Oxy-Clean, and Dr. Pepper. Due to his immense cybernetic brain, GorT is able to produce a post in 0.023 seconds and research it in even less time. Only 'Puter spends less time on research. GorT speaks entirely in zeros and ones, but occasionally throws in a ڭ to annoy the Volgi. He is a massive proponent of science, technology, and energy development, and enjoys nothing more than taking the Czar's more interesting scientific theories, going into the past, publishing them as his own, and then returning to take credit for them. He is the only Gormogon who is capable of doing math. Possessed of incredible strength, he understands the awesome responsibility that follows and only uses it to hurt people.