Liberals and Economics: The Stupid, It Hurts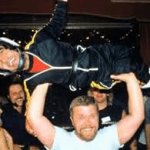 'Puter participates in "Toss a Mental Dwarf
into the Manticore Enclosure" Night down
at the Leaping Peacock. Pictured, 'Puter
preparing to huck E.J. Dionne. Off camera,
Czar wiping the schmaltz off his hands after
similarly treating Katrina vanden Heuvel.
With apologies to a handful of deeply thoughtful and intellectually honest yet very liberal economists,* liberals have absolutely no understanding of how the world works.
In today's Washington Post, Katrina vanden Heuvel argues Democrats' inane economic stimulus programs would work, it's just that America hasn't given them the chance. For Ms. vanden Heuvel, giving liberal policies a chance means government must continue the failed policies of Obama's tenure, but bigger and more expensively. This, and only this, will bring the economy back to health.
But Ms. vanden Heuvel merely builds on themes developed by those who came before her. Or, as Sir Isaac Newton would've put it had he been here to see what passes for intellectualism among liberals today, "If she has seen farther, it is by standing on the shoulders of mental midgets."
Speaking of mental midgets, enter E.J. Dionne, stage left, from this Washington Post column inked in January 2013. Like Ms. vanden Heuvel, Mr. Dionne has an irrational belief in the ability of the government to solve any problem, provided we give the government the time and resources it needs to complete its task. Too, like Ms. vanden Heuvel, when Mr. Dionne refers to "time and resources," he means more of your money and freedom.
Without getting into details in Ms. vanden Heuvel and Mr. Dionne's columns, suffice it to say that their economic policy boils down to this: Government knows how to fix everything, provided you give it continually increasing portions of your wealth, and further provided the right sort of people — our kind of people — are running it.
It's the underpants Gnomes theory of economics:
1. Give government all your money.
2. ????????????
3. Problem solved!
No, Mr. Dionne, it's not acceptable to run ever-increasing deficits when we haven't repaid the money we've previously borrowed. Even Keynesian economists acknowledge that in order for governments to pour money into the economy during a recession, the government must repay the money during good times. That hasn't happened in 'Puter's lifetime (44 years old this year, thank you very much), and it sure as heck isn't going to happen during Mr. Obama's administration.
No, Ms. vanden Heuvel, the answer isn't for government to create bullshit jobs programs for immigrants (Rep. Sander's (Socialist-VT) awesome contribution to immigration reform legislation), or to bestow tax credits on favored corporations and industries for returning jobs to America. A New Deal style public works projects regime isn't going to move the needle either, despite liberalism's odd fondness for the Depression Era, a horrible time for America and Americans.
The solution is simple. Get out of the private sector's way. Stop feel-good but garbage regulatory schemes like the Consumer Finance Protection Bureau. Repeal anticompetitive statues, like automobile dealership franchise laws, milk marketing orders, most agricultural subsidies, government backed student loans and most of all ObamaCare. Reform the tax code to that all corporations pay less in taxes, not just the chosen few on whom you'd bestow tax credits.
There's a simple truth that liberal generally, and Ms. vanden Heuvel and Mr. Dionne specifically, have never understood. Government intervention in the market economy damages, and if continued long enough destroys, prosperity.
Only in pulling back, in sitting on their collective hands, can liberals achieve their stated goal of improving the economy. Despite this basic truth, and in the face of failure after failure of government interventions, liberals remain committed to doing teh stoopid, only bigger.
And with more cowbell.
*If you've got nominations for "thoughtful, non-crazy liberal economist," 'Puter'd love to hear them. 'Puter can't think of any off the top of his head. 'Puter generally likes Steve Rattner, but can't overlook his participation in the vicious prison rape of the rule of law, a/k/a the General Motors/Chrysler bailouts, bankruptcies and illegal creditor cramdowns.

Always right, unless he isn't, the infallible Ghettoputer F. X. Gormogons claims to be an in-law of the Volgi, although no one really believes this.
'Puter carefully follows economic and financial trends, legal affairs, and serves as the Gormogons' financial and legal advisor. He successfully defended us against a lawsuit from a liquor distributor worth hundreds of thousands of dollars in unpaid deliveries of bootleg shandies.
The Geep has an IQ so high it is untestable and attempts to measure it have resulted in dangerously unstable results as well as injuries to researchers. Coincidentally, he publishes intelligence tests as a side gig.
His sarcasm is so highly developed it borders on the psychic, and he is often able to insult a person even before meeting them. 'Puter enjoys hunting small game with 000 slugs and punt guns, correcting homilies in real time at Mass, and undermining unions. 'Puter likes to wear a hockey mask and carry an axe into public campgrounds, where he bursts into people's tents and screams. As you might expect, he has been shot several times but remains completely undeterred.
He assures us that his obsessive fawning over news stories involving women teachers sleeping with young students is not Freudian in any way, although he admits something similar once happened to him. Uniquely, 'Puter is unable to speak, read, or write Russian, but he is able to sing it fluently.
Geep joined the order in the mid-1980s. He arrived at the Castle door with dozens of steamer trunks and an inarticulate hissing creature of astonishingly low intelligence he calls "Sleestak." Ghettoputer appears to make his wishes known to Sleestak, although no one is sure whether this is the result of complex sign language, expert body posture reading, or simply beating Sleestak with a rubber mallet.
'Puter suggests the Czar suck it.