In Which 'Puter Agrees With E.J. Dionne: Obama's Next Term Agenda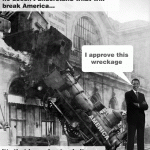 In what may be a first, 'Puter agrees with the Washington Post's resident Obama fluffer E.J. Dionne, at least as to his central premise. Mr. Dionne states that President Obama's agenda for a second term is not as hidden as critics would have us believe.
Unlike Mr. Dionne, however, 'Puter is not eagerly awaiting Obama's second term agenda. 'Puter thinks another Obama term would be an absolute train wreck, for America, for the Democrats and for the world.
Here's a glimpse of what America can look forward to if Obama secures reelection.
Two new reliably liberal Supreme Court justices, dedicated to continuing the unconstitutional increase of government into the lives of Americans. If Obama's reelected, 'Puter will be praying fervently for God to keep and to protect Justices Scalia, Thomas, Roberts, Alito and Kennedy.
ObamaCare's institution. Enjoy your new health care system, America. Obama will keep his promise that we can keep our doctor if we're happy with him, so long as our doctor is the one the government would have chosen for us in any event.
Continued trampling of religious freedom. Look for Secretary Sebelius, under the fig leaf of ObamaCare, to continue her march through Catholic and other religiously affiliated charitable organizations, insisting that they betray their core beliefs in service of the Left's one true god, government.
A renewed assault on the Second Amendment. If you think Fast and Furious was a breathtakingly audacious government overreach, just wait until Obama and Secretary Holder don't have to worry about reelection anymore. These men are not dumb enough to directly come for our guns, but they will do everything short of outright confiscation to de facto remove the Second Amendment from the Bill of Rights. Look for increased federal taxes on ammunition, a renewed "assault weapon" ban and federal licensing requirements, among others.
A vigorous assault on the First Amendment. If we've heard Lefties bitch once about Citizens United, we've heard them bitch a thousand times. Democrats in Congress, with Obama's backing, will try to legislatively repeal the Supreme Court's decision. If Congress can't get it done, Obama will order the Federal Election Commission to crawl into every non-union super PAC's shorts with the full panoply of government bureaucratic might. See, e.g., audits, subpoenas, Congressional hearings, etc.
A press corps without shame. The press will be convinced that they have done the impossible, dragging Obama into the White House not once but twice, despite Obama's dismal performance both in office and on the campaign trail. Any semblance of detached fact finding will be jettisoned in favor of dawn to dusk real time Obama hagiography.
Drastically higher energy prices. Romney was correct. Obama is dedicated to destroying America's ability to provide its own energy, at least insofar as our energy independence involves fossil fuels. Look for Obama to pull more drilling leases on public lands under the guise they're not been used efficiently. Look for the EPA to increase stack emission regulations, effectively legislating coal plants, then natural gas plants, out of existence. No new nuclear plants will be licensed. Billions of taxpayer dollars will be showered on any enterprise run by liberals that has "Green" in its corporate name, regardless of feasibility.
Drastically lower corporate profits. Corporations will retrench, holding on to billions of dollars in profits, in a vain attempt to wait out Obama's reign of terror. Look for markedly higher corporate taxes, meaning lower dividends for retirees and reduced pension fund earnings. Also look for an all-out war on "one-percenter" CEOs and corporate executives. The government may have absolutely no idea how to run a business, but they surer than Hell know that those CEOs are earning way too much.
Higher taxes. Obama has at all times been clear about this. We need both decreased spending (he's lying about this) and increased taxes on the rich (he's lying about the amount of taxes to be imposed). Further, look for Obama to attempt to tax American corporation's offshore profits. And don't forget, ObamaCare's radically higher taxes start kicking in in 2014.
Expanded social programs. It's not enough that everyone who turns 65 in this country gets taxpayer funded retirement and health care. It's not enough that America's poor have so much food they're disproportionately morbidly obese. It's not enough that Americans pay for the disabled, who are actually simply too lazy to work and faking back injuries, depression or both, because they're nearly impossible to disprove. It's not enough that we've paid people to sit on their asses for nearly two years at a clip. Nope. We're going to have more social programs for everyone.
A nuclear Iran. Obama is lying, and lying badly, when he says that he will not tolerate a nuclear Iran. Obama's greatest hope is for a multipolar world, one in which America is diminished in authority and power. Too bad for Obama that Israel will never, ever let Iran get the bomb, even if it means deploying nuclear, biological and/or chemical weapons. Israel doesn't give a damn what Obama thinks; Iran has [corrected – inserted "has" for "hasn't" -'Puter] overtly stated its dedication to finishing what Hitler started. Obama is naive or evil. My hope is the former, though the latter is not beyond imagination.
Turmoil in the Middle and Far East. See immediately above. In Obama's next term, America will be seen as the weakest of all possible horses. Our only remaining ally in the Muslim world will likely be Morocco, and even then, look for retrenchment. China, Russia and Turkey will be emboldened in the region, and flex their muscles as they aggressively move to consolidate control over large swaths of the region's oil resources. Look for low grade wars, spurred by the new colonial powers and puppet states propped up by these powers.
Turmoil in the Far East. China is threatening America's unquestioned (to date) control over the blue waters of the world. Japan is seeing a resurgence in nationalism, which to Asia is about as palatable as the Germans regaining a fondness for Beer Hall Putsches. Indonesia is unstable. The Philippines have effectively ceded control to Muslim terrorists in the south. North Korea, like Ron Paul, is still bat-shit crazy. None of this is going to get any better, or even stay equally bad, without a strong American presences. Obama cannot provide such a presence because he does not know how. Obama would not provide such a presence even if he knew how, because he longs for a multipolar world.
That's just a sampling of the fun we can expect at home and abroad. If Obama wins reelection, we will see at best stagnation, and at worst, economic and military crises.
Enjoy the rest of your day.

Always right, unless he isn't, the infallible Ghettoputer F. X. Gormogons claims to be an in-law of the Volgi, although no one really believes this.
'Puter carefully follows economic and financial trends, legal affairs, and serves as the Gormogons' financial and legal advisor. He successfully defended us against a lawsuit from a liquor distributor worth hundreds of thousands of dollars in unpaid deliveries of bootleg shandies.
The Geep has an IQ so high it is untestable and attempts to measure it have resulted in dangerously unstable results as well as injuries to researchers. Coincidentally, he publishes intelligence tests as a side gig.
His sarcasm is so highly developed it borders on the psychic, and he is often able to insult a person even before meeting them. 'Puter enjoys hunting small game with 000 slugs and punt guns, correcting homilies in real time at Mass, and undermining unions. 'Puter likes to wear a hockey mask and carry an axe into public campgrounds, where he bursts into people's tents and screams. As you might expect, he has been shot several times but remains completely undeterred.
He assures us that his obsessive fawning over news stories involving women teachers sleeping with young students is not Freudian in any way, although he admits something similar once happened to him. Uniquely, 'Puter is unable to speak, read, or write Russian, but he is able to sing it fluently.
Geep joined the order in the mid-1980s. He arrived at the Castle door with dozens of steamer trunks and an inarticulate hissing creature of astonishingly low intelligence he calls "Sleestak." Ghettoputer appears to make his wishes known to Sleestak, although no one is sure whether this is the result of complex sign language, expert body posture reading, or simply beating Sleestak with a rubber mallet.
'Puter suggests the Czar suck it.