Roger Kimball eviscerates Obama and the Anti-American American Élite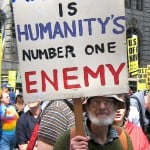 You've made it clear that, deep down, you really don't like the United States. In that, you are like many of your Ivy confrères, all those Harvard-Yale-Princeton types who find the spectacle of individual freedom playing itself out irredeemably vulgar. You all are beyond allegiance to anything so parochial as an individual nation. And when it comes to what (even now) is the world's nation of nations, the United States, you are more than embarrassed: you are downright impatient.
Read on. If you don't, your Gormogons' conspiracy membership is on probation latæ sententiæ.

Don't ask impertinent questions like that jackass Adept Lu.