In another example of the democrats unwilling to take responsibility for the results of their actions, the Washington Post front page* has a report on a significant drop in campaign contributions to the dems as we enter the 2010 election cycle. Why do I say that they aren't taking responsibility? Well, it appears that the message that the democrats are getting out is one that the drop is due to complacency. Their knee-jerk reaction to this is to engage in scare tactics with their supporters:
Rep. Chris Van Hollen (Md.), chairman of the Democratic Congressional Campaign Committee – "We made it very clear: Beware."
VP Joe Biden – "If they take them back, this is the end of the road for what Barack and I are trying to do"
The party line is that their supporters see them holding the White House, the Senate and the House so "Mission Accomplished!" and it's Miller Time! Some secondary reasons are cited in that the troubled economy is causing a drop in donations or that it is dangerous (and therefore, generally disallowed) for these party committees to accept donations from the bailed out companies (TARP banks, GM, etc.).
But maybe there's another reason, one that the WaPo never makes the association with in their article. Maybe President Obama's execution of his policies (or failure to execute on campaign promised policies) has discouraged a number of former supporters. But, of course, it's not Obama's fault, it's the supporters fault for being complacent.
Nationalized Healthcare is a train wreck with 5 or more bills in Congress – all fraught with problems. Again, not Obama's fault – it's the crazy, violent tea party protesters driven to madness by talk radio culminating in the march on D.C. that was so violent it resulted in ZERO arrests.
His day one policy of closing Gitmo in a year is in shambles as Gregory Craig (Obama's man in charge to start) is now out of that position and they are now just reviewing the files on the prisoners there. Again, not Obama's fault – it's the former administration's fault, or the rest of the world, or someone.
Part of the democrats support network is in dire straits as ACORN gets dismantled for what it really is. And even though the White House met with 40+ artists and then participated in a NEA conference call that largely smacks of an attempt to push partisian policies and support through a federally funded organization – it's not Obama's fault – people just are reading too much into these things…relax (but keep giving the democrats money and support).
The moderates and even some of the democrats who supported the "Hope and Change" mantra and believed Nancy Pelosi's pitch for an "open, honest and ethical" Congress are starting to question these with recent events. These supporters are starting feel like they are in that terrible relationship with the psycho girlfriend/boyfriend and are beginning to think, "maybe it isn't me, maybe it's them." And that's what has the democrat leaders terribly worried about next fall.
* for those avid readers, one might question how (or why) GorT is reading the WaPo front page. Simple, it was lying on the reception desk next to the elevators to my office. I still refuse to pay a cent to that paper.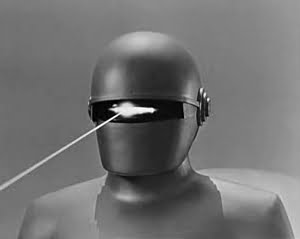 GorT is an eight-foot-tall robot from the 51ˢᵗ Century who routinely time-travels to steal expensive technology from the future and return it to the past for retroinvention. The profits from this pay all the Gormogons' bills, including subsidizing this website. Some of the products he has introduced from the future include oven mitts, the Guinness widget, Oxy-Clean, and Dr. Pepper. Due to his immense cybernetic brain, GorT is able to produce a post in 0.023 seconds and research it in even less time. Only 'Puter spends less time on research. GorT speaks entirely in zeros and ones, but occasionally throws in a ڭ to annoy the Volgi. He is a massive proponent of science, technology, and energy development, and enjoys nothing more than taking the Czar's more interesting scientific theories, going into the past, publishing them as his own, and then returning to take credit for them. He is the only Gormogon who is capable of doing math. Possessed of incredible strength, he understands the awesome responsibility that follows and only uses it to hurt people.