Is the bloom off the rose?
O frabjous day! Callooh! Callay! Change is here, we've elected hope into office. Such were the sentiments that democrats were cheering in early November. Let's fast forward to the past few days. 30+ of the 47-some-odd posts in transition team are going to Clinton-era veterans of DC politics. Daschle is named for HHS. Rumor is that Hillary Clinton will be the Secretary of State. And with Eric Holder, we have another retread. Ok, maybe we can define change as not-Bush (look up Bush Derrangement Syndrome for more information).
Having said all this, are these people really the government that the election based on change was targeting? Already democrats and liberals are scratching their heads. I'll pick on Mr. Holder in particular. I'll leave aside the fact that he led the pardons for the FALN terrorists and Mark Rich and, instead, focus on his previous positions on terrorists:
In January, 2002, Holder appeared on CNN with Paula Zahn to discuss the divergence of opinion among, on the one hand, Donald Rumsfeld, who insisted that Guantanamo detainees were not entitled to "prisoner of war" status under the Geneva Conventions, and on the other, Colin Powell, who was arguing that they were. At least back then, Holder seemed to side with Rumsfeld:
HOLDER: One of the things we clearly want to do with these prisoners is to have an ability to interrogate them and find out what their future plans might be, where other cells are located; under the Geneva Convention that you are really limited in the amount of information that you can elicit from people.

It seems to me that given the way in which they have conducted themselves, however, that they are not, in fact, people entitled to the protection of the Geneva Convention. They are not prisoners of war. If, for instance, Mohammed Atta had survived the attack on the World Trade Center, would we now be calling him a prisoner of war? I think not. Should Zacarias Moussaoui be called a prisoner of war? Again, I think not.
Holder went on to say that Powell's concerns that detainees be treated in a humane fashion were legitimate because doing so would be important in how our own captured troops were treated, but nonetheless reiterated that "War on Terror" detainees are not entitled to Geneva protections:
I think the way to resolve it is, in fact, the way Secretary Powell has proposed, which is to say these are not people who are prisoners of war as that has been defined, but who are entitled to, in our own interests, entitled to be treated in a very humane way and almost consistent with all of the dictates of the Geneva Convention.
Several days before that January, 2002, appearance, Holder — also on CNN — seemed somewhat receptive to the idea of indefinite detentions of non-U.S.-citizens, though there was no discussion of whether they would be entitled to procedures to contest their guilt:
BLITZER: As opposed to John Walker, these are not U.S. citizens. There may be a few British citizens there, but what happens to these guys? Are they just going to stay at Guantanamo Bay forever?

HOLDER: Interesting question. It seems to me you can think of these people as combatants and we are in the middle of a war, and it seems to me that you could probably say, looking at precedent, that you are going to detain these people until war is over, if that is ultimately what we wanted to do.

I think you have a basis for saying that. We had the Vietnam War, we had World War II, people were captured during the course of that war were not repatriated until the conclusion of the conflict. So, it's possible they could be there for an extended period of time.
President-elect Obama isn't even in office and some from his own party are questioning his decisions. Facing this, the economic crisis and several difficult international hot spots (as detailed before), he's going to have a really difficult time.
Twas brillig, and the slithy toves
Did gyre and gimble in the wabe;
All mimsy were the borogoves,
And the mome raths outgrabe.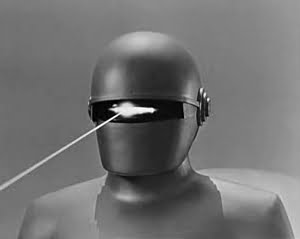 GorT is an eight-foot-tall robot from the 51ˢᵗ Century who routinely time-travels to steal expensive technology from the future and return it to the past for retroinvention. The profits from this pay all the Gormogons' bills, including subsidizing this website. Some of the products he has introduced from the future include oven mitts, the Guinness widget, Oxy-Clean, and Dr. Pepper. Due to his immense cybernetic brain, GorT is able to produce a post in 0.023 seconds and research it in even less time. Only 'Puter spends less time on research. GorT speaks entirely in zeros and ones, but occasionally throws in a ڭ to annoy the Volgi. He is a massive proponent of science, technology, and energy development, and enjoys nothing more than taking the Czar's more interesting scientific theories, going into the past, publishing them as his own, and then returning to take credit for them. He is the only Gormogon who is capable of doing math. Possessed of incredible strength, he understands the awesome responsibility that follows and only uses it to hurt people.