Someone Let 'Puter Out Again?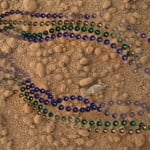 Our apologies folks, apparently Dat Ho or Sleestak let 'Puter roam free past the Leapin' Peacock and he ended up on a four day bender. Apparently somewhere around the 47th hour, he was on Mars trying to get the rover to…ah…show him its…well. Anyway, it seems he left his set of Mardi Gras beads on the planet and is now begging one of us to discretely retrieve them before February 12th, 2013.
Now, we have to work up some story since the rover decided to beam images of the beads back to Earth.