Get Well Soon, Mrs. Schroeder!
Well, you long-time readers know the Castle Gormogon so well that you could walk to it from the Leaping Peacock with your eyes closed, which in fact is how 'Puter and the Czar often have to do it.
But we do have other neighbors, too, and not just along Castle Drive. In the back, behind the menagerie, and even past the trees, our "back yard" abuts the chain-link fence of Mrs. Schroeder, who's retired, widowed, quiet, and makes her own pickles in Ball jars. She's the kind of neighbor who gives out home-made apple Fiddle-Faddle on Halloween, and the kids trick or treating on Klesmer Street know it's safe (and desirable) to eat, not throw away.
Alas, Mrs. Schroeder has been a bit bed-ridden lately, due to a small incident with force lightning that hit her from an unexplained source. She was out checking her tomato plants when, we heard from her neighbor from across Klesmer, Dan Weber, a zigzaggy bolt of bluish force lightning zapped her pretty bad in the shoulder, somewhere from the direction of our Castle. Anyway, that's what Dan said he saw.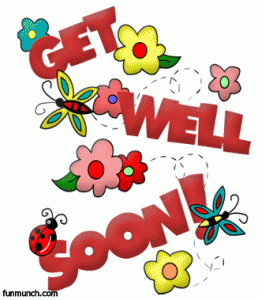 We did not see any such lightning, curiously, and you'd think we would have. Indeed, our own Dr. J. is something of an expert on the subject of producing force lightning (he's a Sith Lord, or somesuch), and he was absolutely certain that none flew over our Castle from some random direction. But Dr. J. has been so nice, visiting Mrs. Schroeder every day, making sure her wound is healing nicely, and assures her that, in his professional medical opinion, she'll be back to gardening, cooking, and basic human hygiene in no time! And just to make sure, he's been bringing her candles, a floral arrangement, and a frozen lasagna over the last couple of days.
Doc has been so nice to her, in fact, that she's offered to make him some of that Fiddle-Faddle, and it's only August. Dr. J. assures her that he'll keep an eye out for any future force lightning flying around, and if he finds out who did it, he'll definitely tell her. Doc added that he's pretty certain that it won't happen again, as he is an expert at it and everything. And just to be sure, he bought Dan Weber a really nice bottle of bourbon to make sure that Dan doesn't ever see any more lightning bolts come from over our Castle toward their homes. The Czar hasn't spoken to Dan, but we hear that Dan is pretty sure he didn't see anything the first time, either.
Such a mystery. But whichever way this goes, get well soon from all of us at the Castle! Sincerely, your neighbors, the Gormogons.

Божію Поспѣшествующею Милостію Мы, Дима Грозный Императоръ и Самодержецъ Всероссiйскiй, цѣсарь Московскiй. The Czar was born in the steppes of Russia in 1267, and was cheated out of total control of all Russia upon the death of Boris Mikhailovich, who replaced Alexander Yaroslav Nevsky in 1263. However, in 1283, our Czar was passed over due to a clerical error and the rule of all Russia went to his second cousin Daniil (Даниил Александрович), whom Czar still resents. As a half-hearted apology, the Czar was awarded control over Muscovy, inconveniently located 5,000 miles away just outside Chicago. He now spends his time seething about this and writing about other stuff that bothers him.