Except Death and Taxes…and Democrat Posturing
Much is being made of Alexandria Ocasio-Cortez's (D-NY) statements that the United States should implement a 70% upper tax bracket for "the rich" across the media and the intranet. Paul Krugman, resident bad opinion writer for the NYT, jumped into it with an Opinion section piece yesterday. Let's first examine her statement on the issue:
…you look at our tax rates back in the '60s and when you have a progressive tax rate system. Your tax rate, you know, let's say, from zero to $75,000 may be ten percent or 15 percent, et cetera. But once you get to, like, the tippy tops—  on your 10 millionth dollar— sometimes you see tax rates as high as 60 or 70 percent. That doesn't mean all $10 million are taxed at an extremely high rate, but it means that as you climb up this ladder you should be contributing more
Krugman tries to reinforce it with this graph and he draws an implied correlation between the lower tax rates and a lower growth rate in GDP per capita:
Initially, this chart (Figure 1) threw me for a loop as I was trying to compare "GDP per capita" to the axis on the right where you see what has to be percentage points. Upon re-reading Krugman's terrible opinion, I picked up on the "growth in" part of his description of the chart. To be clear, Krugman is comparing a point-in-time federal tax policy (the top marginal tax rate for a particular year) with the change over time measure of an economic indicator (growth in GDP per capita) that can be influenced by many things, but largely by the U.S. population. Maybe it's me but does anyone else find it odd that he's comparing two very different things by measurement method and impact factors?
To lay all the cards on the table (unlike Krugman who is attempting some Opinion-piece sleight of hand), Figure 2 is the chart on the U.S. population growth over roughly the same time period. The vertical axis is in millions. The chart clearly shows a pretty steady growth, particularly from the end of WW2 to present with maybe a small dip around 1990.
And Figure 3 is a chart on the GDP per capita over the same period. Again, pretty steady growth with a few dips when we hit some economic troubles (i.e. 2008 housing market crash).
For those that don't see the conclusion, when you have a growing population (the denominator in the GDP per capita measure), you need to grow GDP in order to have the GDP per capita growth as shown in the chart. To experience a "growth in GDP per capita" you not only need to grow GDP as your population growth, but it needs to be ever increasing growth. For example, in the early 1980s when, according to Krugman's chart, we were experiencing a ~2% growth in GDP per capita, that equates to $600 per capita but in 2015, a 2% growth would be $1,000 per capita. So while you worked hard in the 80s, adding an additional $600 to $750 to the economy per year, you now have to work harder so you can add $1,000 to $1,500 each year to the economy for the same amount of growth. And that's only a 2% growth in GDP per capita rate.
But this is just a false argument by Krugman. It's fodder for the non-critical thinkers out there who won't question his numbers or charts because he is a Nobel Laureate. He is nothing more than a huckster of poor opinions. Let me offer another correlation – one that Krugman and Alexandria Ocasio-Cortez won't offer. Figure 4 is the total federal spending over the same period. Not only is it increasing but it is doing so at an almost exponential rate. Try correlating this chart with Figure 1's growth in GDP per capita: as the federal spending rate grows, the growth in GDP per capita shrinks. This highlights a key point – Krugman argues that "[t]he optimal tax rate on people with very high incomes is the rate that raises the maximum possible revenue" but we should be asking why do we need to raise the maximum possible revenue? Shouldn't we be raising the minimally needed revenue for the federal government to function? Hasn't history taught us that our federal government is fraught with waste and abuse of taxpayer funds? Is it a good idea, therefore, to give the federal government the MOST amount of revenue we can? What kind of idiotic logic is this?
If this is the "thought leadership" that the old guard (Krugman) defends while the new guard (Ocasio-Cortez) preaches, I'm worried. Worried for those that buy into it and worried for the future of this country. The debt matters. The GOP and democrats have long ignored that. An in order to solve this, the government doesn't need more revenue – it needs to be put on a diet. Functions that are not under the purview of the federal government should be dissolved to the states and the 10th Amendment should be considered fully in any new federal government program.
And no, the "general welfare clause" isn't a good enough defense. It has been abused well beyond how Hamilton abused it.
The only reason this is getting any attention is that the only thing certain in this world are death, taxes, and a Democrat posturing.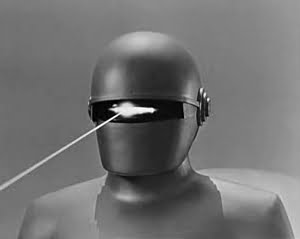 GorT is an eight-foot-tall robot from the 51ˢᵗ Century who routinely time-travels to steal expensive technology from the future and return it to the past for retroinvention. The profits from this pay all the Gormogons' bills, including subsidizing this website. Some of the products he has introduced from the future include oven mitts, the Guinness widget, Oxy-Clean, and Dr. Pepper. Due to his immense cybernetic brain, GorT is able to produce a post in 0.023 seconds and research it in even less time. Only 'Puter spends less time on research. GorT speaks entirely in zeros and ones, but occasionally throws in a ڭ to annoy the Volgi. He is a massive proponent of science, technology, and energy development, and enjoys nothing more than taking the Czar's more interesting scientific theories, going into the past, publishing them as his own, and then returning to take credit for them. He is the only Gormogon who is capable of doing math. Possessed of incredible strength, he understands the awesome responsibility that follows and only uses it to hurt people.