After avoiding the subject for quite a long while, the Czar got around to trying the Sig-Sauer P320 full-size in 9mm. This particular firearm is noteworthy because it's the long-awaited successor to the Beretta 92 SBF, also known as the M9. And that's important because the P-320 is the official sidearm of the United States military, where it shall be known as the M17.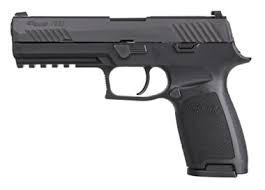 The Beretta was a controversial decision back in the early 1980s, as it replaced the venerable M1911A1 .45 pistol as standard issue. Lots of folks like the "1911," and were incredibly unreasonable about letting it go. It is indeed one of the Czar's favorites, and he can hit pretty much anything with one. But the Beretta offered more ammunition, was compatible with a ton of other weapons in NATO, and was just better overall.
Except, you know, there is a large number of people that just can't seem to get the hang of the Beretta. The Czar is one of them, too. He really disliked its strange design, its top-heavy slide, and propensity to miss nearly everything we aim it at. Better on paper, perhaps.
Not surprisingly, firearm performance and safety have advanced a lot since the early 1980s, and the military was more than happy to ditch the M9. Except, as you'd expect, a ton of people suddenly started screaming that they now loved the M9, and how dare they replace it. That's how it goes when you do weapons standardization for the United States. Nobody likes you. Ever.
Don't even start looking into what happened with rifles.
But after a long trial period, the military selected the P320 as its best-performing overall pistol contender, among quite a lot of manufacturers. Really. Yes, it beat out some famous competitors, much to the surprise of many and the inevitable dismay of most.
Anyway, the M17 is now the standard for all military and federal units in the United States, with the exception of every branch and bureau, all of whom have their own standard weapons made by a bunch of different manufacturers. The Czar has no idea who will actually carry the M17, since everybody seems to be approved to carry something else.
So how good is it? The Czar opted to use the full-size, which is the equivalent of the M17, using range-friendly 9mm rounds. And the answer is… it was okay.
Not okay, like your kid's first attempt at making you eggs is, um, …okay, but really okay: as in, a pretty decent choice. It lined up well on target, had a nice grip, and easy sight picture, and was easy to use. In fact, there was nothing bad about it.
The Czar isn't about to give up his beloved Springfield XD40 for this. And he isn't going to say the P320 is better than the 1911. But frankly, the P320 shoots a lot better than most Glocks,* and way better than the often-rattling Smith & Wesson M&P. Anyone who's shot a firearm made after 2000 will have little trouble appreciating the P320 for being a good weapon.
The Czar's only problem with the P320 is the fact it's a Sig. The Czar has always thought Sigs are over-priced for what you get; not bad, by any means, and good on you if you own a Sig. But a Sig is like a Lincoln product. Yeah, it costs a lot more, and has basically the same features as a lower-priced Ford, but the Czar has never met a Lincoln owner who felt like a dope for getting one. Because they're good…just a bit costly.
So that's an extremely arguable quibble; the fact is the P320 isn't very expensive, and the thing just shoots really well. The Czar expected to have a lot more things to complain about, but really came up with nothing. It's not a great firearm, the P320, but it absolutely does the job. It's not all that sexy to look at, but this weapon doesn't care what you think of it.
Look, if you put a Glock 17, a Springfield XD, a CZ-75, a 1911, a Beretta PX4, and a P320 on a bench, and said "Take what you want, folks," the P320 would probably be the last one picked. But in a dirty sandpit in some filthy country on the far side of the world, with bullets coming closer to you, you'd be very happy to find a P320 with you. Because you know it's going to fire, and it's going to hit what you see.
In short, not a bad thing to have with you. The Czar won't be too quick to doubt the military's decision, here.
*Yeah, I said it. But not all Glocks.

Божію Поспѣшествующею Милостію Мы, Дима Грозный Императоръ и Самодержецъ Всероссiйскiй, цѣсарь Московскiй. The Czar was born in the steppes of Russia in 1267, and was cheated out of total control of all Russia upon the death of Boris Mikhailovich, who replaced Alexander Yaroslav Nevsky in 1263. However, in 1283, our Czar was passed over due to a clerical error and the rule of all Russia went to his second cousin Daniil (Даниил Александрович), whom Czar still resents. As a half-hearted apology, the Czar was awarded control over Muscovy, inconveniently located 5,000 miles away just outside Chicago. He now spends his time seething about this and writing about other stuff that bothers him.