GorT "watched" the Oscars last night. By that, I mean I had it on in the background and occasionally looked up to see what was going on with the show while doing some work on my laptop.
Summary
The Oscars were boring. Jimmy Kimmel's monologue was blah. It seemed like they had 10 video montages when all they needed were one or two*. The live performances of best songs nominees were fine (with the exception of "This Is Me" from Greatest Showman which was great). And the nominated films aren't the ones that people are spending money to see. The Oscars have leapt the shark. It is time for a serious reboot.
Monologue and Atmosphere
Jimmy Kimmel isn't the right guy for this event. His jokes were lame and many fell flat on delivery. The introduction was lackluster and really didn't energize the crowd or the TV audience. During the monologue he praised "positivity" but then went on to bash Trump – so much for positivity. #LoveTrumpsHate, right? Oh wait, liberals can hate because they hate out of love. Are you following that? Aside from that, the various movements were represented throughout the night. Of course, they open the Oscars with a shot of Meryl Streep. Who KNEW about the Weinstein abuses and did and said NOTHING. But this goes to exactly the problem that, apparently, still exists in Hollywood: there is a hierarchy of power. Streep is at the top. It's why they cut to people like her, Jack Nicholson, Warren Beatty, etc. in the crowd during award shows. Environments with power structures like this are highly susceptible to abuses and coverups. The musicians Common and Andra Day did a song in the middle of the Oscars with various "activists" on stage behind them. He used the lyric about when "they go low, we go to the heights" – which I'm not sure everyone would characterize the type of anti-Trump rhetoric is staying on the high road.
They also repeated the call about Black Panther as the first superhero movie with a black lead. I think Will Smith (Hancock), Robert Townsend (Meteor Man), Damon Wayans (Blankman), Shaquille O'Neal (Steel), and Hally Berry (Catwoman) might disagree (even given that some were flops and/or comedies).  Also, a few notable events: a credibly accused rapist won an award for best animated short film. A movie about a minor having a sexual relationship with an adult received multiple nominations and won for best adapted screenplay (paging Roman Polanski). These pronouncements, nominations, and awards only further undermine Hollywood's attempt at credibility when it comes to issues about equality, sexual abuse, and bettering society.
All in all, GorT would characterize the hosting and atmosphere as alienating. For those that really listened, Kimmel said that Hollywood is or needs to lead the change against sexual abuse and harassment. I've been working for companies for twenty years that have annual, mandatory "safe workspace" training sessions and zero tolerance policies. I know of cases where employees have been fired for violating it. Twenty years. Jimmy Kimmel, Hollywood is WAY behind other industries. Hollywood isn't leading the change – Hollywood is part of the problem.
Awards
I don't get how the Academy picks the winners. It clearly doesn't follow the "majority vote" model if you use American audiences. Here is the list of the top 20 (plus a few main Oscar nominees) box office revenue films in 2017 and how many "major" Oscar category (Best Picture, Screenwriting, Actor, Actress, Supporting Actor, Supporting Actress, Director, Best Soundtrack) nominations they received:
Star Wars: The Last Jedi (0)**
Beauty And the Beast (0)**
Wonder Woman (0)***
Jumanji: Welcome to the Jungle (0)
Guardians of the Galaxy Volume 2** (0)
Spider-Man: Homecoming (0)
It (0)
Thor: Ragnarok (0)
Despicable Me 3 (0)
Justice League (0)
Logan** (0)
The Fate of the Furious (0)
Coco** (0)
Dunkirk (1)
Get Out (3)
The Lego Batman Movie (0)
The Boss Baby** (0)
Pirates of the Caribbean: Dead Men Tell No Tales (0)
Kong: Skull Island** (0)
The Greatest Showman** (0)
39. The Post (2)
48. The Shape of Water (7)
51. Darkest Hour (2)
52. Three Billboards Outside Ebbing, Missouri (6)
56. Lady Bird (5)
I get that because a movie is popular means that the movie is exceptional. I also get that due to movie release dates, annual box office revenues isn't a great measure, but I think it suffices for the point I'm making.  I'm happy to revisit this in 2019 and use a first year revenue for each of the films. I don't think it will be significantly different. The point being, I do believe that truly exceptional movies should transcend from an Academy nomination to the box office.
The Future
GorT gets it – Hollywood is using shows like the Oscars, Emmys, etc. as their bully pulpits to posture themselves and make sure that they seem like good people so the audiences will keep paying upwards of $20 per ticket to see the films and support their extravagant lifestyles. But I think these award shows need a serious reboot. Kimmel's joke at the beginning regarding the first Oscars being 15 minutes long might have some truth behind it.
Anything over 2 hours long is too much. Keep the In Memoriam montage (except hit ALL the people who passed away last year), awardees get 2 minutes tops and only one speaker for group awards****. And essentially ditch the emcee – do it all via voice narration and kick it off with a montage of the nominees. At least it would reduce some of the self-congratulations that takes place and make it a little more palatable.
* As stated above: they need an opening montage to replace the monologue and the In Memoriam montage
** These films were nominated (and some won) in other categories outside of the major ones
*** Wonder Woman is an Israeli actress LEADING a blockbuster superhero movie and Hollywood gave it ZERO nominations.
**** Sorry folks, one speaker only, so pool your notes, pick a competent speaker, and have them cover the whole thing.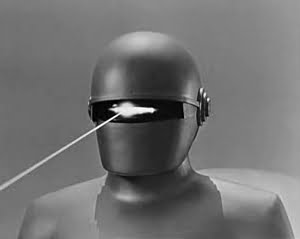 GorT is an eight-foot-tall robot from the 51ˢᵗ Century who routinely time-travels to steal expensive technology from the future and return it to the past for retroinvention. The profits from this pay all the Gormogons' bills, including subsidizing this website. Some of the products he has introduced from the future include oven mitts, the Guinness widget, Oxy-Clean, and Dr. Pepper. Due to his immense cybernetic brain, GorT is able to produce a post in 0.023 seconds and research it in even less time. Only 'Puter spends less time on research. GorT speaks entirely in zeros and ones, but occasionally throws in a ڭ to annoy the Volgi. He is a massive proponent of science, technology, and energy development, and enjoys nothing more than taking the Czar's more interesting scientific theories, going into the past, publishing them as his own, and then returning to take credit for them. He is the only Gormogon who is capable of doing math. Possessed of incredible strength, he understands the awesome responsibility that follows and only uses it to hurt people.