First – there are no spoilers in this post.
GorT is not a fan of the horror genre per se.  Sure, he's seen most of the classic horror movies (i.e. The Shining, Poltergeist, The Exorcist, etc.) and some odd ones (i.e. Zoltan: Hound of Dracula and Re-animator) but, by and large, GorT doesn't go see the random scary flicks that come out every several months.
GorT exercises daily for about 45 minutes – mostly treadmill, but some other exercising as well.  During this time, he enjoys watching some Netflix, Amazon Prime, or other streaming media to pass the time with just watching the clock tick down on the machine. I guess you could say it's his version of binge-watching – he's just not hiding in his room, buried under covers, laptop inches from his face with earbuds in for hours on end*.  Aside from the occasional guilty pleasure of watching an episode of the original Star Trek series, a random episode of the animated Star Trek Series**, a comedy bit (current favorites are Jim Gaffigan's stand up routines and Iliza Shlesinger), GorT will pick an interesting sounding series and work through them.  Sometimes the timing isn't right and he leaves an episode midway through, but that doesn't bother him too much.  In the past he's enjoyed: Man In The High Castle, Foyle's War, Death in Paradise, The Finder, Crossing Lines, and Dark Matter.  There have been a few bombs, but mostly it's been good.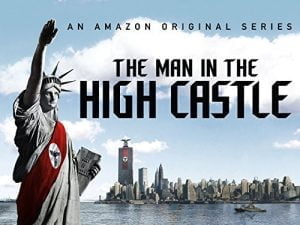 GorT is a fan of Philip K Dick's work (ever since a college Sci-Fi class that focused on it) so Man In The High Castle on Amazon Prime was solid.  Well produced, solid acting, and interesting to boot.  I know some people didn't care for it but GorT is looking forward to the second season.  Foyle's War was exceptional through the seasons just after the end of the war.  I think it weakened thereafter, sadly. Death In Paradise was chosen on a lark.  Nothing was calling out to GorT and Netflix recommended it based on my watching queue.  It's quirky and not deeply intellectual, but the mysteries are pretty good and it's enjoyable for a show while working out.  GorT thinks the Finder was a show that was canceled*** before its time. It was different, funny, and drew you into every episode.  You could care about the characters. I found myself re-watching the series again as I had watched it when it originally aired.  Crossing Lines is a show about a multi-national team based out of the Hague that pursues crimes around Europe. It follows the formula of a diverse cast where one person is the "computer guy" and another is the "weapons expert" or the "professional driver". Again, not high brow entertainment but decent enough to distract you while trudging along on a treadmill….hmm, maybe not a ringing endorsement.  Dark Matter is a unique Science Fiction series that begins on a ship where six people awake from cryogenic sleep with no memories. They number themselves in order of awakening and the mystery unravels while they have encounters related to each of their pasts. Again, I'm looking forward to the next season.
This brings us to Stranger Things. Maybe you've heard the current buzz flying about this show. Without giving anything away, the show is set in 1983 and is an homage to the pop culture of the 1980s and the work of Steven Spielberg, George Lucas, John Carpenter, Stephen King, etc. The plot follows the supernatural events leading up to and following the disappearance of a middle school boy in a small town in rural Indiana with an unknown, secret government base nearby. Winona Ryder is cast perfectly as the distraught mother of the missing boy, David Harbour is great as the town's police chief and all of the kids (four boys in the group and various other siblings and teens) are well played. Most interesting, maybe, is the mysterious girl played by Millie Bobby Brown. GorT found himself watching outside of exercising, the show was so well done.  GorT gives it two metallic thumbs up.
Sigh, so GorT finished the eight episode season last night so he's back to scrolling through the offerings on Netflix and Amazon Prime looking for another option.  He is impressed, though, at the quality of the Netflix, Amazon, etc. original series. I think entertainment will shift and the large cable providers better be ready for it.
* Sound like anyone else's teenage kids?
** Seriously a guilty pleasure. They're not great, but it is a bit of nostalgia for GorT back to Saturday morning cartoons growing up.
*** Don't get Volgi or Mrs. GorT started on Flying Blind…or Volgi on NewsRadio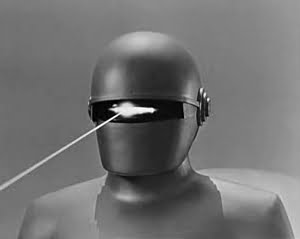 GorT is an eight-foot-tall robot from the 51ˢᵗ Century who routinely time-travels to steal expensive technology from the future and return it to the past for retroinvention. The profits from this pay all the Gormogons' bills, including subsidizing this website. Some of the products he has introduced from the future include oven mitts, the Guinness widget, Oxy-Clean, and Dr. Pepper. Due to his immense cybernetic brain, GorT is able to produce a post in 0.023 seconds and research it in even less time. Only 'Puter spends less time on research. GorT speaks entirely in zeros and ones, but occasionally throws in a ڭ to annoy the Volgi. He is a massive proponent of science, technology, and energy development, and enjoys nothing more than taking the Czar's more interesting scientific theories, going into the past, publishing them as his own, and then returning to take credit for them. He is the only Gormogon who is capable of doing math. Possessed of incredible strength, he understands the awesome responsibility that follows and only uses it to hurt people.