Did you watch the AKC dog show last night? The Czar and his family did! This was the 139th annual dog show, based on the age of the judges. What a great event to watch, as a bunch of matronly plus-sized women, twerps dressed like it's 1940, and whackjobs less smart than their dogs parade the canines up and down so that a judge can pick the ones New York City audiences like best.
Seriously. Each judge has to look at every dog and determine if it comes closest to its official standard. This is why some dogs never win and some dogs almost always win. For example, here's a portion of the standard for the Tibetan Lower Highlands Water Spaniel:
The dog's eyes shall be no more than 3.5" apart at pupil center, with any spotting on the forehead forming an isosceles triangle. No hair on the muzzle or withers shall exceed 3.5" in length, with the angle of the fetlock forming a 60° bend when the dog is at attention. No horizontal element of the dog's surface anatomy shall exceed a 1:2 ratio relative to its vertical component, unless there shall be an offset between the two not to exceed 45° between the two.
And here's the entire specification for the perennial favorite, the Toy Poodle:
A dog.
That's why the poodle keeps winning. In fact, the entire history of AKC victors can be broken down like this.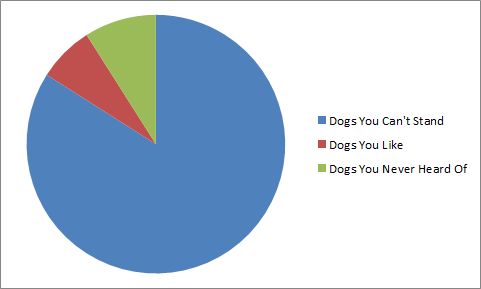 Isn't that sad? It's also the truth. So when you see a dog you recognize and like—a boxer, because maybe you had one—you already know it's going to lose to a yap dog like a Toy or some trendy dog like the Havanese. And it sure won't be some new breed, like the Slighter Bernese Wetland Spaniel.
And what the heck. The Czar remembers when the AKC recognizing a new breed of dog was earth-shattering news. Now, they add like 18 every year. By 2024, the Czar estimtes, the AKC dog show will consist of 4,823 breeds and take three weeks to judge. Never before has the AKC been accommodating to dog breeders who write a standard for a pooch that was, just last week, a mutt. "Hey, isn't that a cross between a pointer and a Lab? My brother just got one at the pound for $150." "No, uh, that's my Lower Welsh Toller Hound, and it cost me $3,500." Okay. Right.
The worst part about the dog show is now that the beagle has won, everybody will be running out to buy over-priced and over-bred beagles. Well, if you're looking to upgrade your dog, allow the Czar to review with you the most popular options.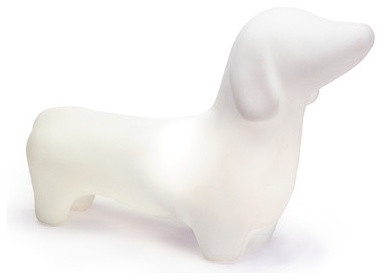 Dogs are a lot of fun to have around, but not always. When you're done using your dog, consider a convenient storage case. This one, in fleece, offers the dog plenty of rugged protection. Avoid the foam ones, as they start to smell bad from the cheap, Chinese rubber, and your dog can get pretty hot in there if you're away for a long weekend. Many of them feature convenient carrying handles and USB charging ports, for those dogs who run on battery. Metric sizes available, too.
Does your dog hate deep water? All the hipsters are getting dog snorkels these days. Available in a wide variety of sizes, your mutt diver can plumb untold depths as he or she explores the submarine life. Imagine the look on your best friend's face when he finds the elusive clown fish, or a school of tetras. Watch him bark at a stone fish! Although, really, he shouldn't bark because if he does, the snorkel will come off and he'll find himself in deep water.
Just like no uptown apartment is without bistro lights, your dog needs to get his party on. Low voltage bistro lights, available in a variety of colors, can flash or glow steady to show your dog is ready for the fun times. LED strands are a lot more expensive, but last a lot longer. Possibly longer than your dog will.
Why should your dog have to lay on the floor when he's taking it easy? This dog hammock is perfect for indoor or outdoor lounging. Soft padding is ideal for your weary hound, and the washable padding is an extra treat for you! Of course, there's the added entertainment of watching your four-legged acrobat try to get into a swinging hammock. You think it's hard for you? It might be best if you just picked up the dog and put him in there for the time being. Three sizes available.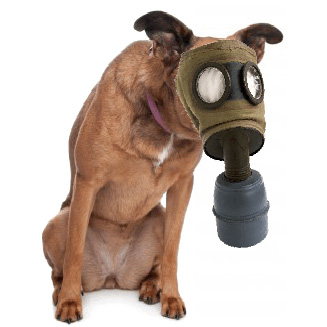 If you are the overly paranoid type, consider a dog gas mask. Last year alone, over ten million dogs survived chemical weapons attacks from friends and neighbors, often right in their own home! With an active charcoal filter and adjustable strap system, your dog will never have to breathe foul odors. Let's be honest, if you have a dog that decided to spend the day rolling in its own vomit, you might be better off putting this thing on yourself. Yes, the straps are that adjustable. Yes, the Czar has tried. Yes, dogs do this sort of thing, and yes, dogs are generally the source of the worst odors you find in any room. Yes, the Czar is familiar with 'Puter.
You can hardly visit a dog park these days without noticing the large number of dogs that have their very own archbishop. As dogs weaken in their faiths, thanks to an increasingly lay society, it can be vital to bolster their religious convictions by giving them their very own archbishop. If you're especially proud of your dog, may we recommend their very own Pope? The one featured here, raised in a papal mill, is a West Highland White well-suited for Roman Catholic temperament. Other denominations can benefit from an Archbishop of Corgi, an Anglican West Minister, or a Parson Russell. And you knew that last one was coming, didn't you?

Божію Поспѣшествующею Милостію Мы, Дима Грозный Императоръ и Самодержецъ Всероссiйскiй, цѣсарь Московскiй. The Czar was born in the steppes of Russia in 1267, and was cheated out of total control of all Russia upon the death of Boris Mikhailovich, who replaced Alexander Yaroslav Nevsky in 1263. However, in 1283, our Czar was passed over due to a clerical error and the rule of all Russia went to his second cousin Daniil (Даниил Александрович), whom Czar still resents. As a half-hearted apology, the Czar was awarded control over Muscovy, inconveniently located 5,000 miles away just outside Chicago. He now spends his time seething about this and writing about other stuff that bothers him.