As most of you know, the Czar was born in the last third of the 13th Century, and had the fortune to meet many people who either were famous or soon became famous. Many of these people were fun and exciting, like Jane Austen, Fats Waller, and Zog I of Albania.
Some of them were less pleasant, and the Czar even took a strong dislike to many. For example, the Czar did not like Sun Tzu—who was China's losingest general. He was so bad at military planning that he even wrote a book about everything he learned the hard way. "Too little, too late," muttered King Helü as the axe whomped down on his neck. Of course, you are welcome to say this is fantasy, as Sun Tzu lived almost 1500 years before the Czar was born. This is your error, as the Czar was able to meet him well after his death.
But you know who else drove the Czar cray-cray? Henry Clay. The Czar met him a couple of times during the 1800s, and can not begin to explain what an insufferable pain in the neck Clay was. Here's a picture of the two of us sharing a lunch outside the Capitol in May, 1836. The Czar was planning a royal feast with suckling pigs and fresh lamb brains; Clay brought a Nutella sandwich. Classy.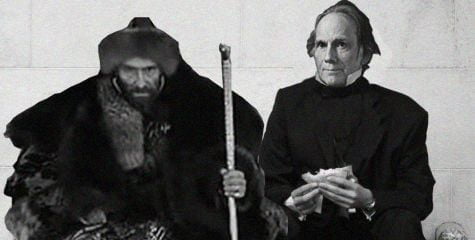 Anyhow, Clay was obsessed with becoming President. He wanted nothing more, and indeed, nothing else. He made terribly disparaging comments about being a Senator, which he hated nearly as much as a Representative.
He ran for president in 1824, 1832, and 1844…officially. Unofficially, he also ran in 1828 but couldn't get enough nominating votes.
He tried in 1840, too, but the party decided William Henry Harrison was more exciting by that point. Heck, John Tyler—who was so unpopular that his own party threw him out, easily beat him in the convention votes.
So naturally, at the end of his political life, he decided to retire with dignity. Kidding! He tried one more time in 1848, losing the nomination to Zachary Taylor. Come to think of it, Clay repeatedly lost to some of our most meager presidents.
God called him home in 1852, rather than see him try one more time for the presidency.
If you are sorting all this out, you probably noticed that he didn't run in 1836. Ironically, the Czar thinks that Clay actually could have beaten Martin Van Buren, and others agree with us. Thank goodness he decided to sit that one out.
Why? Okay, forget about Clay's Nutella sandwiches and his hypocrisy about slavery (he was a slave owner) and his endless plotting and scheming (for example, he backed John Quincy Adams in 1828 in exchange for being made Secretary of State—in hopes that this would fast-track him in the next election when he double-crossed Adams*).
The thing that annoyed the Czar the most about Clay was his insane obsession to be president, at any cost. Clay was consumed with the desire to be commander in chief, and while a little ambition is a good thing, Clay thought about nothing else.
And anyone who wants to be president that badly usually winds ups being a bad president. Keep that in mind when you hear that Mitt Romney is scratching his chin over a third run. That's only half the number of Clay's attempts, but it's enough. If you lose an election, dust yourself off and get back to it: your second run will be that much better since you know now how bad it gets. But if America says no to you twice, fair enough. You tried, and that's a great thing.
But when you go for a third try, well, you're kind of saying the problem is with America and not with you.
The Czar gets Mitt Romney. He got hosed his first time around because he thought running would be a simple thing, like running for governor. He was blasted out of the campaign. Fair enough: lessons learned. He tried again, but made enough fundamental mistakes to do the impossible—he got a sure-fire loser like Obama re-elected.
So Mitt Romney said he was done, and God bless him for realizing it. A guy like Romney can be awfully effective behind the scenes, and he was adamant he wasn't running.
But then this poll comes out that says if the 2012 election were held right now, Romney would win by a landslide. Really? Well, howdy hey: may be we should re-think this 2016 thing.
This is his mistake: in 2016, Romney wouldn't be running against Barack Obama. Of course, you know this, but obviously Mitt Romney doesn't. All he heard was "you're a shoe-in in 2016." And this is a disastrous condensation of pride worthy of a fall.
Clay never got the message that America didn't want him near the presidency; Mitt needs to hear that same message, too.
*More trivia you wouldn't know but the Czar would because he met the guy? John Quincy Adams pronounced his middle name "Quin-zee." No, he wasn't affected. No, he didn't have a lisp. That's how his mom pronounced it, so that's how he said it.

Божію Поспѣшествующею Милостію Мы, Дима Грозный Императоръ и Самодержецъ Всероссiйскiй, цѣсарь Московскiй. The Czar was born in the steppes of Russia in 1267, and was cheated out of total control of all Russia upon the death of Boris Mikhailovich, who replaced Alexander Yaroslav Nevsky in 1263. However, in 1283, our Czar was passed over due to a clerical error and the rule of all Russia went to his second cousin Daniil (Даниил Александрович), whom Czar still resents. As a half-hearted apology, the Czar was awarded control over Muscovy, inconveniently located 5,000 miles away just outside Chicago. He now spends his time seething about this and writing about other stuff that bothers him.