Science Fiction TV – Top 5
So, I've received some feedback from other Castle dwellers as well as some operatives and minions.  Always great to hear the opinions.  I'll present the top 5 here and let folks digest.  Over the next few days, I'll post up some of the opinions, once I sort and bucket* them appropriately.
Number 5: Twilight Zone

 
A classic.  Needs to be in the top 5.  It wasn't super heavy on what most consider Science Fiction and leaned towards more thriller/chiller kind of story lines but I think in a broad sense of "science fiction" it more than meets the mark.  The lasting impression this show has made on pop culture and TV will be endless.

Number 4: Battlestar Galatica (2004-09)

 
Also known as "BSG".  GorT was addicted to this show.  DVR'ed it, streamed it, etc. just to keep up and roll through the episodes.  We held a viewing party at work over lunch to watch the latest episode at the time.  The attention to detail that largely goes unnoticed is a huge factor.  Details of how grimy, dirty and makeshift the Galactica becomes over time being removed from supply depots and their home planet.  It generated (or rebooted) language quirks that had viewers quoting it left and right.  One could probably argue that the finale was Lost-esque and a let-down, but after such a powerful set of seasons, it would be hard to wrap it up in any fashion.  Clearly a top 5.

Number 3: Star Trek: The Next Generation

 
Bah.  Here is my biggest objection on the list.  There is no way, even with how bad season 3 of the original series was, that this spin off should be better.  Aside from the silly jumpsuit uniforms the show, I thought, took a while to find its legs and then had plenty of bad episodes as well.  "Try and dislike [it]" – not hard.  Ok, dislike might be too strong.  GorT watched it fairly regularly.  But Majel Barrett as Lwaxana Troi – meh.  Jonathan Frakes' Riker was played so stiffly that jokes abound.  The show was so overly politically correct and pitched the utopian society so hard that even when things had to happen to save it, they were minimal or minimized.  Blech.  Plus it set up the whole Rick Berman trashing of the Star Trek series.  It took a reboot movie by J.J. Abrams to really kick it up again.

Number 2: The X-Files

 
Yep – a classic.  GorT was a infrequent watcher of the show, largely due to other activities in his life at the time.  It didn't rise to must-watch TV for him.  But plenty of others had it set as such.  It spawned two spin-offs and a movie – none of which rose to the level of the series, but they do lend credence to the ranking of this show.  One could argue that it also inspired others like Fringe and maybe were inspired by series like "Friday the 13th".

Number 1: Doctor Who

 
The series spans 5 decades and continues to generate new fans each year.  It is unique in that the series incorporates a rebirth/relaunch/reboot into the storyline itself as the Doctor is renewed/regenerated in various likenesses.  The series is on its 12th Doctor and many debates rage within the Doctor Who fan base over who their favorite Doctor (and Companion) are.  With such a broad and loyal following and a heavy dose of science fiction, it's hard to argue that this series deserves anything but the top ranking.
* Yes, GorT is a computer science nerd so I sort and bucket things…sometimes using MergeSort, QuickSort, ShellSort and my favorite, the RadixSort.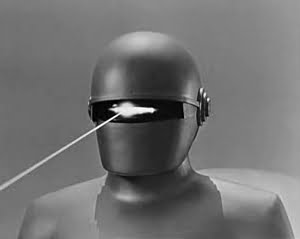 GorT is an eight-foot-tall robot from the 51ˢᵗ Century who routinely time-travels to steal expensive technology from the future and return it to the past for retroinvention. The profits from this pay all the Gormogons' bills, including subsidizing this website. Some of the products he has introduced from the future include oven mitts, the Guinness widget, Oxy-Clean, and Dr. Pepper. Due to his immense cybernetic brain, GorT is able to produce a post in 0.023 seconds and research it in even less time. Only 'Puter spends less time on research. GorT speaks entirely in zeros and ones, but occasionally throws in a ڭ to annoy the Volgi. He is a massive proponent of science, technology, and energy development, and enjoys nothing more than taking the Czar's more interesting scientific theories, going into the past, publishing them as his own, and then returning to take credit for them. He is the only Gormogon who is capable of doing math. Possessed of incredible strength, he understands the awesome responsibility that follows and only uses it to hurt people.