Science Fiction TV Numbers 20 – 16
As we close in on number 1, you'll start seeing some consistently strong contenders. However, still a few anomalies remain.
Number 20: Starblazers / Space Battleship Yamato

 
GorT watched this on Saturday mornings regularly.  The article references both Speed Racer and Gigantor which could have made this list bumping a few of the weaker ones off (hint: dump Knight Rider for Speed Racer).  If you are unaware of this show: Earth is under attack from Gamilon and has a year left before the radiation renders the planet dead.  The heros raise the sunken ship Yamato and transform it into the Space Battleship Argo complete with a FTL drive to reach help from Iscandar. It's a classic worth watching.

Number 19: Babylon 5

 
This series was written and design with such depth that it truly was a thought-out five seasons that were each fully developed.  GorT watched a little of the series but fell out of it over time.  The show tackled issues including ethnocentrism, the pros and cons of patriotism, addiction, homophobia and religious tolerance.  It was a pretty solid show.

Number 18: Sliders

 
Another of Mrs. GorT's favorites and GorT concurs.  This show was a riff on Quantum Leap where a group of four people jump ("slide") between alternate reality Earths where different historical events have changed – dinosaurs have survived, the Allies lost WWII, etc.  It was a pretty fun show.  Probably not worthy of its rank, but definitely top 50.

Number 17: Mystery Science Theater 3000

 
Ok, MST3K was not a big hit with GorT but plenty of his friends were/are huge fans.  I was always of the opinion that I (or we) could mock bad science fiction shows.  These guys do a great job of mocking shows and created quite a cult following.  Again, worthy of the list, but a little weak in being the "greatest" science fiction shows when the show is really more of a send up show.

Number 16: Star Trek: Deep Space Nine

 
The second of the Star Trek franchise shows to make the list.  Personally, this would not rank as high (meaning it should be in the 30's) on GorT's version.  It was a bold attempt at doing a Star Trek show on a fixed space station (DS9) right in the middle of a conflict that was ending.  GorT wasn't so big about the show and thought the acting was weak.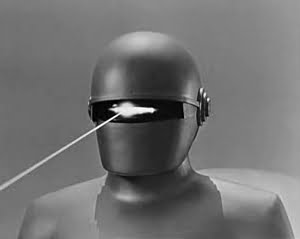 GorT is an eight-foot-tall robot from the 51ˢᵗ Century who routinely time-travels to steal expensive technology from the future and return it to the past for retroinvention. The profits from this pay all the Gormogons' bills, including subsidizing this website. Some of the products he has introduced from the future include oven mitts, the Guinness widget, Oxy-Clean, and Dr. Pepper. Due to his immense cybernetic brain, GorT is able to produce a post in 0.023 seconds and research it in even less time. Only 'Puter spends less time on research. GorT speaks entirely in zeros and ones, but occasionally throws in a ڭ to annoy the Volgi. He is a massive proponent of science, technology, and energy development, and enjoys nothing more than taking the Czar's more interesting scientific theories, going into the past, publishing them as his own, and then returning to take credit for them. He is the only Gormogon who is capable of doing math. Possessed of incredible strength, he understands the awesome responsibility that follows and only uses it to hurt people.