Science Fiction TV Numbers 10 – 6
Getting closer…I appreciate the mail and will be posting feedback and mail after the full list is up.
Number 10: The Outer Limits

 
I never really went back and watched The Outer Limits or its inspiration, The Twilight Zone, save for a few, classic episodes of each.  As Popular Mechanics' list points out, this series was more edgy and in-your-face with the science fiction and shock factor.  I didn't realize but am not surprised that the Harlan Ellison written episode of The Outer Limits is pretty close to the storyline of The Terminator to the point that Ellison sued John Cameron over it (and won an out of court settlement and a credit in the film).

Number 9: Fringe

 
Mr. and Mrs. GorT watched Fringe pretty regularly – we came late to the first season but then watched it progress.  We were a bit worried that it meandered from its initial, odd occurrence investigations into the alternate reality stuff, but it held together pretty well.  Some great intertwining plot lines, interesting characters and a dose of believable and stretch science fiction.  And I liked the whole "Massive Dynamic" corporation element.

Number 8: Neon Genesis Evangelion

 
GorT has never heard of this one and as the article states, the US adoption of it has been small.  After what appears to be a catastrophic meteor event, half the world's population is killed and the Earth tilts on its axis, leading to massive tsunamis and general mayhem. The series follows a young man who is recruited to fight the alien "Angels" monsters using giant robots/mechas named Evagelions.

Number 7: The Prisoner

 
SCORE!  GorT is a huge fan of The Prisoner. Patrick McGoohan stars as a secret agent who gets fed up with MI-6 (essentially) and decides to retire.  But he knows too much and is kidnapped and sent to "The Village" where everyone is known by a number.  He is number 6.  Those who run the Village employ various psychological tools and tricks to try to assess whether he is a risk and to keep him contained within the Village with, presumably, other spies and officials who know too much.  Huge weather balloons (rovers) chase down and return escapees with a 1960s creepy sound effect.  I am not a number.  I am a free man!

Number 6: Star Trek (the Original Series)

 
Pop Mech rates it at number 6 only because some of the episodes in season three are pretty weak.  It was a pioneering show in so many ways with its sense of optimism, future technology inspirations (cellphones, etc.) and the much touted first interracial kiss on TV.  It has spawned Star Trek TNG, Star Trek: DS9, Star Trek: Voyager, Enterprise, an animated Star Trek series (also one of GorT's favorites as a child), many films in the series and inspired many others.  So many pop culture references have been made from it to the point that people use the term "warp speed" naturally.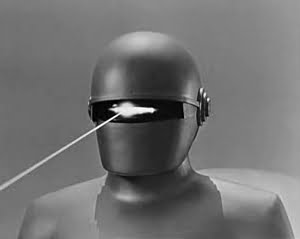 GorT is an eight-foot-tall robot from the 51ˢᵗ Century who routinely time-travels to steal expensive technology from the future and return it to the past for retroinvention. The profits from this pay all the Gormogons' bills, including subsidizing this website. Some of the products he has introduced from the future include oven mitts, the Guinness widget, Oxy-Clean, and Dr. Pepper. Due to his immense cybernetic brain, GorT is able to produce a post in 0.023 seconds and research it in even less time. Only 'Puter spends less time on research. GorT speaks entirely in zeros and ones, but occasionally throws in a ڭ to annoy the Volgi. He is a massive proponent of science, technology, and energy development, and enjoys nothing more than taking the Czar's more interesting scientific theories, going into the past, publishing them as his own, and then returning to take credit for them. He is the only Gormogon who is capable of doing math. Possessed of incredible strength, he understands the awesome responsibility that follows and only uses it to hurt people.