GorT received the following interoffice memo from Dr. J regarding the Science Fiction TV show countdown:

GorT,I've enjoyed your commentary on the top 50 Sci-Fi shows as ranked by people other than us.I'd like to share a few of my own musings.

49. Land of the Lost – When Enik discovered that this was his future, not his past…mind blown. Dr. J.'s first celeb crush was Holly. She looked like Karen, the girl next door. Dr. J. was 3 at the time.

45. Knight Rider – The show got off to a good start. But it got repetitive quickly (i.e. after one season) as there are only so many small towns like the one in Roadhouse, where Michael and KITT need to topple 'Big Daddy' from his perch. Also, for an indestructible car, KITT had a track record like an '87 Jaguar.

43. Space: Above and Beyond – This was actually a really good show that lasted one season, that didn't get the credit it deserved, largely due to a crappy time slot.

41. Battle of the Planets – This was destination television for Dr. J. While it was sanitized for American consumption, Dr. J. always suspected there was something up with Zoltar. Turns out he was a hermaprodite shape shifter (he kept shifting between a man and a woman), and 7-Zark-7 narrating out some of the more PG elements. Nevertheless, Dr. J. loved it. He's probably going to purchase the DVDs of Gatchaman when he clears out his Apple TV cue.

37. Twin Peaks – Great first season, not so great second season, truly disturbing series finale.

36. Buck Rogers: Campy fun. Dr. J. agrees with GorT that the first season was better than the second. The second season wasn't as bad as folks say. It wasn't Galactica 1980 or the Gary Coleman episodes from the first season, sheesh! Dr. J. sent Gil Girard a fan letter as a third grade assignment (write a fan mail letter in 'business letter format') and he (his publicists) sent back an autographed picture and letter. So, Dr. J.'s got a soft spot for Gil.

33. Alien Nation – Dr. J.'d tune in as a kid on Saturday's at 3PM, killing time before the 5PM mass.

32. Star Trek: Voyager – Worst Star Trek Ever – Dr. J. didn't last through season 3.

31. Lost in Space – Dr. J. enjoyed it. Angela Cartright (Penny) was his second celebrity crush. He always found the Dr. Smith, Will Robinson relationship a little creepy.

30. Battlestar Galactica (1978) – Dr. J. loved this show. Yes it's light, but what do you expect from Glen A. Larson? Again, he was a wee tot when he was tuning in. While the production value and drama of its successor were better. This show is still watchable (except for the one or two western themed episodes). Dr. J.'s favorite episodes were the War of the Gods two parter with Patrick Macnee chewing up the scenery as Mephistopheles. Battlestar Galactica 1980 was utter garbage, except for the Return of Starbuck episode.

21. Dr. J.'s never seen the series finale, and wishes he did. Other than that it was fantastic stuff, especially the Leap Home episode.

20. Star Blazers – Dr. J's talked about this before (https://www.gormogons.com/index.php/2012/04/in-which-dr-j-considers-learning/). During his youth, when it was on in the summer (2:30) all the boys in the neighborhood would go inside, watch the show at their respective homes and come back outside, talk about the show for an additional 30 minutes and then resume whatever we were doing (usually baseball) until dinner. Iscandar and Gamilon binary planets? Wow. This was probably some of the best Sci-Fi Dr.J. enjoyed during his childhood. Dr. J.'s since watched the movie remake, which was spectacular, except that the Gamilas and Iscandarians were non-corporeal entities, which was a little odd to him, but he suspects that otherwise it would have been a budget buster. Nevertheless, the film was faithful to the original in spirit, when not in fact. It is definitely worth watching if you get a chance. Be warned, the characters do not have their 'Star Blazer names.' So do a little google research to get the names straight.

19. Babylon 5 – Like Star Blazers, should be much higher on the list. The show is vastly underrated, probably because the first season is a bit slow, and because the show spent its first 4 seasons in syndication, so it had neither street-cred, nor as large an audience as it deserved. What was great about this show is that it had a beginning, middle and end. The 4th and 5th seasons were crammed into the fourth season because of impending cancellation. TNT rescued it, resulting in a 5th season that was more of a denouement and platform for the future than anything else. The sequel series didn't have the mojo, largely due to Turner Network interference with J. Michael Strazinsky (JMS)'s vision. Dr. J. recently rewatched seasons 1-4 and they still hold up as some of the best television writing. JMS even left several trap doors for characters to be written out if need be. It looks like a movie is in pre-production as well. We shall see how that pans out.

16. Star Trek: Deep Space 9: This was actually Dr. J.'s favorite modern trek. Probably because it shows the dirty underbelly of the Starfleet/United Federation of Planets Utopia. Dr. J. has long been fascinated with the utopian/dystopian science fiction, and DS9, again, showed that Utopian societies are tragically flawed, especially as they cannot own up to price for their utopianism. When Starfleet and the whole Alpha Quadrant was threatened by a Gamma Quadrant empire who they bumped up against due to a stable wormhole near DS9, it showed how dirty and corrupt Starfleet was willing to be keep the peace. Section 31 was introduced during this era, and it showed Roddenberry's vision to be idealistic prattling. While it should also be higher on the list, it wasn't as good as B5.

Dr. J. looks forward to the top 15, and assumes that while it hasn't been listed yet, The Powers of Matthew Star isn't in the top 15, but rather hasn't made the cut.

…

14. Stargate SG-1 – Meh

13. V. – The mini-series was appointment television for Dr. J. , the Jane Badler's Diana spooked the crap out of a young Dr. J., as did the partial lizard faces underneath ripped off latex. Indeed, even V, The Final Battle was pretty bad ass until the end (Pretaynama much?). Dr. J. never got into the television series, despite Lane Smith's outstanding work.

11. Firefly – Dr. J. loves him some Joss Whedon and was quite the Buffy/Angel devotee. He never got into Firefly, however. This is probably because he never thought much of characters played by Nathan Fillion, probably given that he was lousy in the last season of Buffy.

10. The Outer Limits – Dr. J. spent many nights (either due to insomnia, or night feedings of the Lil Resident and Lil Medstudent) watching the fin de siecle update in reruns. Not quite the Twilight Zone, but still good stuff.

6. Star Trek TOS – Dr. J.'s earliest memories are watching this with Papa J. His favorite episode from childhood is 'Let That Be Your Last Battlefield.' That was the one with Frank Gorshin who is half black, half white (like a NY Deli cookie) and he's pursuing a criminal that's half white, half black. A little over the top in re-viewing, but still good stuff.

5. – The Twilight Zone – Always good for a pitstop during a Sci-Fi channel marathon. Dr. J. loves finding celebs 'before they were famous' on this show.

4. Battlestar Galactica – The Galactic jumping into a free-fall in the atmosphere above New Caprica…probably the ballsiest move on any show on this list. So say we all, mother-f'ers!

3. Star Trek TNG – Dr. J. doesn't think it deserves number 3 (above TOS and DS9) it was still a great show. Dr. J. took greater pleasure enjoying watching the hypocrisy and dirty underbelly needed to maintain the Progressive Utopia than Utopia itself. The Enterprise-D is the progressive elite at their finest. Pure projection of how the left sees itself.

2. The X-Files – Dr. J. liked it early on, and eventually it lost its footing. "Jose Chung's 'From Outer Space.'" which was a satire of the the show, was probably its most brilliant episode. Charles Nelson Reilly, Jesse Ventura and Alex Trebek were brilliant.

1. Doctor Who – Probably Dr. J.'s favorite Sci-Fi show on TV, even when it's lousy. He does not disagree with this assessment.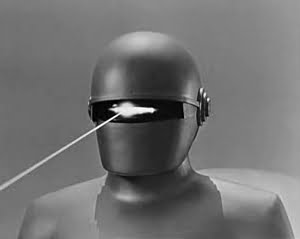 GorT is an eight-foot-tall robot from the 51ˢᵗ Century who routinely time-travels to steal expensive technology from the future and return it to the past for retroinvention. The profits from this pay all the Gormogons' bills, including subsidizing this website. Some of the products he has introduced from the future include oven mitts, the Guinness widget, Oxy-Clean, and Dr. Pepper. Due to his immense cybernetic brain, GorT is able to produce a post in 0.023 seconds and research it in even less time. Only 'Puter spends less time on research. GorT speaks entirely in zeros and ones, but occasionally throws in a ڭ to annoy the Volgi. He is a massive proponent of science, technology, and energy development, and enjoys nothing more than taking the Czar's more interesting scientific theories, going into the past, publishing them as his own, and then returning to take credit for them. He is the only Gormogon who is capable of doing math. Possessed of incredible strength, he understands the awesome responsibility that follows and only uses it to hurt people.