The Czar's post reminds me that we did in fact discuss some grilling/smoking stuff during the ad hoc Gormogonicon earlier this spring.  Much like the Czar, GorT has grilled all sorts of things.  As far as smoking in my vertical water smoker, it's a bit more limited: pork, beef, chicken, turkey, sausages and peanuts (yes, with a spice blend – ooh, tasty.  Might need to make those again).  I am debating trying salmon soon.
I disagree with the Czar in that I think charcoal is the better fuel for hot dogs and hamburgers solely on a taste basis.  I agree that heat control is harder but the flavor is worth the care required.
With regards to some of the Czar's rules (they're all spot on) but let me emphasize a few:
3 or 4. As an addendum, get your grill to temperature before putting the meat on.
6.  Many people squish their meat (burgers in particular) in order to counteract a natural occurrence when cooking burgers: the meatballing effect.  Let me explain.  If you make a homemade hamburger (with 80/20 ground chuck is best, I'd recommend not going more lean than 90/10 and ground round is acceptable), you probably form it into a patty.  Good.  Don't overhandle it but make sure it's well packed.  Now, I recommend the thumbprint in the middle approach – this creates a little crater that as the burger cooks, will work against the tendency for the burger to swell up in the middle and shrink.
7.  Chicken, particularly boneless & skinless breasts, can get tricky with both reading and flipping.  If the grill isn't lubricated and you try flipping a piece of chicken too early, you'll probably get some tearing of the meat.  Some will stick to the grill.  Maybe a little on the flipping instrument.  Not good.  You need to wait until it is cooked enough on one side and then the chicken should be relatively easy to flip.
On another note, season your meat BEFORE grilling.  A great way to grill steaks is to salt both sides and put on a rack over a pan in the refrigerator for a day or two before grilling.  Similarly, season the burgers while you make the patties.
GorT will post later about smoking.  GorT has gotten pretty darn good at pulled pork from smoking a pork shoulder, beef brisket (both sliced and pulled/shredded), chicken (drawback is the skin).  I'm starting to look at more interesting recipes.
Last rule: enjoy it.  Have fun.  Try and experiment.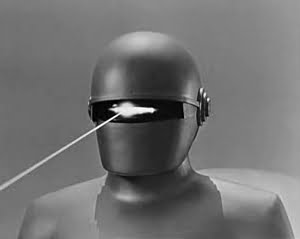 GorT is an eight-foot-tall robot from the 51ˢᵗ Century who routinely time-travels to steal expensive technology from the future and return it to the past for retroinvention. The profits from this pay all the Gormogons' bills, including subsidizing this website. Some of the products he has introduced from the future include oven mitts, the Guinness widget, Oxy-Clean, and Dr. Pepper. Due to his immense cybernetic brain, GorT is able to produce a post in 0.023 seconds and research it in even less time. Only 'Puter spends less time on research. GorT speaks entirely in zeros and ones, but occasionally throws in a ڭ to annoy the Volgi. He is a massive proponent of science, technology, and energy development, and enjoys nothing more than taking the Czar's more interesting scientific theories, going into the past, publishing them as his own, and then returning to take credit for them. He is the only Gormogon who is capable of doing math. Possessed of incredible strength, he understands the awesome responsibility that follows and only uses it to hurt people.