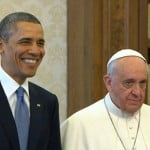 Papal biographer and long-time vaticanisto George Weigel provides an interesting, tough-minded reading of the Vatican's take on the meetings between President Obama and Pope Francis. He doesn't think the clerics were impressed with the pols.
Official photo released by the Vatican.
I kid you not.
Weigel does a nice job of interpreting the gestures and symbols the Pope and his staff used. Worth your time if such things interest.
Pope Francis conducted his conversation with President Obama across a desk — a stage-setting exercise on the Vatican's part that one canny media veteran thought "a tad aggressive" and another observer said resembled a school principal having a firm talk with a recalcitrant student. There was no attempt to embarrass here. But the arrangement nonetheless sent a signal, to the administration and to others: The Holy See was not interested in reinforcing the White House's pre-meeting script, nor would it be interested in doing so for other public officials in the future

Don't ask impertinent questions like that jackass Adept Lu.