A few years ago, the new fad in home televisions was the "3D" TV.  Most manufacturers now treat that as routine and they probably cashed in on the early-adopter set but largely, mainstream viewers replied, "meh."
Well, the next stage in TV technology is peeking past the early-adopters and that is the 4K TVs – also known as Ultra HD.
First, let's get some common ground.  Your* standard High-Definition (HD) TV sets are capable of displaying images with 1920 by 1080 pixels. The original generation of HD sets supported 60 Hertz (Hz) refresh rates and later, 120Hz, 240Hz and even 600 Hz** technologies were added.  One must consider that you can't display anything in higher quality than the source.  For example, a Blu-ray DVD supports 1080p at 60Hz which means that it shows 60 interlaced or 30 progressive frames at 1920×1080 pixels every second.  Unless you are Peter Jackson, film is shot at 24 frames per second (fps) and upconverted to 30fps (a process called 2:3 pulldown).  Many Blu-ray players actually limit the frame rate to 24 fps to attempt to match the film quality but HDTVs with the rate-increasing technology negates that.  The 120Hz rates do a decent job but rates higher are generally marketing fluff and the average consumer and most amateur videophiles won't notice an improvement (thay'll say they do, but unless you are Steve Austin or GorT with bionic eyes, you really can't notice it).  What you will notice is the motion-enhacement technologies.  These are great for fast motion scenes, sports and video games but for comedies and dramas, they can produce odd effects.
So what about 4K TVs?  Well, in many focus groups, people didn't recognize any improvement – largely because the current generation of 4K has 60Hz refresh rates so they suffer from motion-blur issues.  So while you'll be seeing Sony, Samsung, etc. hitting the markets with these TVs, it's just not quite the right time.  In addition to the low frame rate, there really isn't a lot of 4K programming available for the general consumer.  NetFlix and YouTube have some select shows/videos.
So unless you have The Mandarin's 6.37*1023 pixel TV and bionic eyes, I'd stick with the HD sets and wait for the next-gen UltraHD sets.
* You do have HighDef TVs, right?  Because if you don't, just stop.  Now.  Really.  GorT gives his own household crap when he finds the cable box tuned to a low-def channel when the same high-def channel is available.  Get out.
** 600Hz refresh rates are found in some plasma TVs
*** For the Volgi: the caption is, "It's coming at you, man, in 3-d, like.  Dude, got it, we're just picking up our China Gourmet food."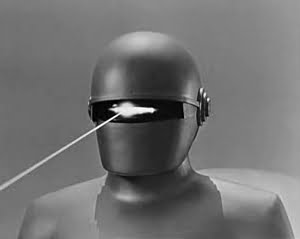 GorT is an eight-foot-tall robot from the 51ˢᵗ Century who routinely time-travels to steal expensive technology from the future and return it to the past for retroinvention. The profits from this pay all the Gormogons' bills, including subsidizing this website. Some of the products he has introduced from the future include oven mitts, the Guinness widget, Oxy-Clean, and Dr. Pepper. Due to his immense cybernetic brain, GorT is able to produce a post in 0.023 seconds and research it in even less time. Only 'Puter spends less time on research. GorT speaks entirely in zeros and ones, but occasionally throws in a ڭ to annoy the Volgi. He is a massive proponent of science, technology, and energy development, and enjoys nothing more than taking the Czar's more interesting scientific theories, going into the past, publishing them as his own, and then returning to take credit for them. He is the only Gormogon who is capable of doing math. Possessed of incredible strength, he understands the awesome responsibility that follows and only uses it to hurt people.