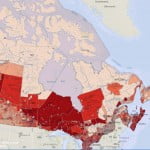 The Czar's 14-year-old neighbor stopped over for a visit yesterday, bringing his dog over to spend some time with our little Sally, who are best canine pals. As his dog attempted to engage Sally in play (a futile effort as Sally has little interest in activities other than sleeping or eating), the young man and the Czar ruminated over a wide range of topics. Among the topics was the Crimea, and about taking over countries in general.
"I thought of a way to take over Canada without them even realizing it," he said to us suddenly.
The Czar was intrigued by such a great introductory sentence. Do continue, we urged.
Red areas show how far my young neighbor could get before Canada realize all their bases are belong to US. One wonders how far Americans could lose their country before they realized it.
He explained, "What you do is take the fence that we do have, and sometime late at night, we all move it about six inches northward. Then, after a few weeks, move it north another six inches. And keep going a few inches every few weeks. By the time the Canadians realize it, we'll be past New Brunswick. By then, we'll have more than 90% of their population on our side of the fence."
This was not a bad plan, we remarked, given that Canada will apologize ("Soar-ee!") for the inconvenience.
But you know, the Czar realized, that's what government does, to us, as citizens, nearly every single day. A little HMO there, a little CHIP there, and pretty soon Obamacare. A little concealed carry permit there, a little magazine ban there, and suddenly gun control. By the time you realize the fence has been moved, pow, the government is past New Brunswick and you're apologizing for it.
The fence creeps closer every day. A little law here is not so bad, is it? And if you can live with that, how about a law that covers this? As Joseph Overton would say, it goes from Unthinkable to Policy in just a few short hops. Whether you call it boiling the frog, creeping normality, or the camel getting his nose in the tent, it's all the same thing. A wizened shaman on the Tartar plains in 1283 once said to us that danger comes not with the roar of the dragon but the silent tiptoe of the cat.
As our young visitor almost realized for himself, that's an easy way to find you've lost your country.

Божію Поспѣшествующею Милостію Мы, Дима Грозный Императоръ и Самодержецъ Всероссiйскiй, цѣсарь Московскiй. The Czar was born in the steppes of Russia in 1267, and was cheated out of total control of all Russia upon the death of Boris Mikhailovich, who replaced Alexander Yaroslav Nevsky in 1263. However, in 1283, our Czar was passed over due to a clerical error and the rule of all Russia went to his second cousin Daniil (Даниил Александрович), whom Czar still resents. As a half-hearted apology, the Czar was awarded control over Muscovy, inconveniently located 5,000 miles away just outside Chicago. He now spends his time seething about this and writing about other stuff that bothers him.