Spring Break – J. Edition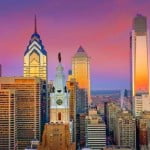 Motown Philly…back again!
Gentle Readers,
Dr. and Mrs. J. and the J.lings are leaving the confines of the #
snowdome
and are headed north to visit Mama J. and the J.-in-laws this week. He leaves the blog in The Czar's more than capable hands, especially now that 孔夫子, the Œcumenical Volgi (The Notorious ŒV) has given up not posting on the blog for Lent.
If Dr. J. has time and interweb access, you may hear from him this week, but then again, he hasn't been to the ancestral home in quite some time.
Best,
Dr. J.