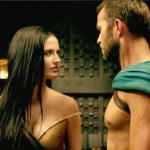 Ridiculous hotties as click bait?
No, just reporting EVA GREEN
SULLIVAN STAPLETON NAKED
HOTTT SEX SCENE.
It's sad what world-spanning
conspiracies are reduced to
these days…
A historian of the battle of Salamis looks at the new movie spectacle:
Hollywood might not know much about history, but it has an advanced degree in sex and violence. Yet somehow, it can manage a surprising amount of insight into the human condition. A case in point is 300: Rise of an Empire, a sequel to 2006's hugely successful 300. Both films are loosely based on fact. The first is about the Battle of Thermopylae (480 B.C.), where 300 Spartans fought to the death to defend Greece against a massive invading Persian army. The dead included Sparta's king, Leonidas. Terrible as the defeat was, it inspired Greece's resistance and eventual victory.

The sequel focuses on the war at sea, and particularly on two battles: Artemisium, which took place around the same time as Thermopylae, and Salamis, one of history's greatest naval encounters, which occurred about a month later. Thermopylae had been the Greek equivalent of a bare-knuckle battle, and the Spartans prided themselves on being the manliest of men. The Athenians, who saved Greece at sea, fought a different kind of war. Ships and seamanship, rather than brawn, proved decisive. And when brains rule, women can rise to the challenge. In fact, the two naval battles saw the participation of probably the first female admiral in history—Artemisia, queen of Halicarnassus. Though half-Greek, she fought for the Persians.

Rise of an Empire rewrites many of the facts.
Here's a similar review of the original 300 with the witty title "True Thermopylaes."

Don't ask impertinent questions like that jackass Adept Lu.