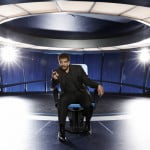 The Czar, like his dimensionally manipulative brethren GorT and Dr. J., has watched the first installment of Cosmos with Dr. Neil deGrasse Tyson as host. The Czar was not as enthusiastic as many reviewers.
The effects are cooler, but like Phantom Menace you need to apply them to something solid. Also, didn't the original show have cooler music?
The original Cosmos with Carl Sagan was utterly impressive, and explained extremely difficult concepts to a very skeptical audience in a gentle, easy manner that could transform pretty much anyone into somebody able to discuss relativity or dimensional space with experts and keep up for quite a while. It was that good.
The new Cosmos, only one small episode into its effort, has massive shoes to fill. Unfortunately, despite the need to win the audience over, it missed the mark quite a few times.
First was the embarrassing introduction by Barack Obama; as Dr. J. noticed, this was the president who whacked the space program into oblivion. No one living could have been more inappropriate, and the choice was surely motivated because the program was being shown on Fox. See, libs? Fox has your programming, too. It was a tone-deaf stunt, like having Richard Dawkins introduce a show on religion.
Second, the new show spent far too much time rehashing stuff from the first Cosmos, such as the cosmic calendar. Dr. deGrasse Tyson indicated in a recent interview that he aimed to update the show, and not merely be a sequel. That's fine, but choose something that can be updated. The whole point of the cosmic calendar analogue is that on a grand scale of almost 14 billion years, we have barely arrived. 34 years makes not a bit of difference.
Third, the presentation of the life of Giordano Bruno—cleverly depicted in stylistic animation—was stridently anti-Catholic. The viewers got this: Bruno is some early saint of cosmology, while the Catholic Church was bad, bad, bad. Charged but inaccurate words like inquisition were used; priests were shown in shadowed faces with reptilian eyes. Catholics hate science, you see.
Yes, the Church made a terrible mistake with Giordano Bruno; but where was the acknowledgment that the Roman Catholic Church paid for observatories, medical research, engineering, and other scientific projects throughout the Dark Ages and the Renaissance and right into today? Instead, this gets the usual liberal edit that Catholics are anti-science because it is inconvenient to mention or disclaim the actual facts.
By the way, deGrasse Tyson praises the beauty of the scientific method, but makes no mention that it was developed by the Church. Find out who Roger Bacon worked for, Neil.
Fourth, there was far too much reminiscence. Sure, it was moving the way deGrasse Tyson choked up when discussing his weekend visit with the Sagans—but that should be a DVD extra, not material for the show. Constant referrals to Sagan imply this program is not quite an update as much as it was an homage. With frequent referrals to the original show, it becomes a sequel, and not an update. If we want to watch the original Cosmos, that's what we will do…and maybe we should.
The Czar gives the first installment a grade of C. Needs to try harder.

Божію Поспѣшествующею Милостію Мы, Дима Грозный Императоръ и Самодержецъ Всероссiйскiй, цѣсарь Московскiй. The Czar was born in the steppes of Russia in 1267, and was cheated out of total control of all Russia upon the death of Boris Mikhailovich, who replaced Alexander Yaroslav Nevsky in 1263. However, in 1283, our Czar was passed over due to a clerical error and the rule of all Russia went to his second cousin Daniil (Даниил Александрович), whom Czar still resents. As a half-hearted apology, the Czar was awarded control over Muscovy, inconveniently located 5,000 miles away just outside Chicago. He now spends his time seething about this and writing about other stuff that bothers him.