Male Bag!: Tea Party Rant Feedback Edition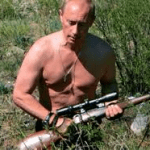 Vladimir Putin was kind enough to pose shirtless, with
a rifle for this installation of 'Puter's totally not
homoerotic Male Bag. Note, all references to "heavily
armed Russians" in Ukraine actually refer to shirtless
Vladimir Putin taking Crimea with only this rifle.
'Puter received two emailed responses from operatives over the weekend. Since 'Puter's a lazy slob who refuses to do nearly anything on weekends, he's getting around to responding today.
First up, Operative SGO writes in from the newly snow-covered Western mountains:
Dearest Ranty 'Puter,
Yes, I voted for Sharron Angle in the Senate primary race. I was surprised as all heck (not Joe Heck) when she won it! I figured the squishies in Clark County would be enough to get Lowden to the general.
I was just wondering what position of Sharron's is lunatic, or close? Or maybe you were referring to some of the others you named.
I agree with all your other points about idol worship and fanaticism on the right. I also agree that it's important to start rebuilding the Republican Party from the ground up, precinct-by-precinct. Eventually, the Establishment culture will change (back).
However, I still refuse to capitalize "Tea Party" as though it is one big collective, because that's one of the points: it's a group of individuals. That's a big obstacle to "get[ting a] collective act together."
Just one more small clarification: Harry Reid's home is South Bumf*ck, Nevada, not East. But I'm sure he'd have a spread out at The Lakes if he weren't in DC.
Your Constitutional Republican minion,
[Operative SO]
Sharron Angle was the least offensive of the tea party candidates 'Puter mentioned. And, to the best of 'Puter's knowledge, her positions were mainstream by conservative standards.
My problem was Ms. Angle was not yet ready for the big time, and there was a competing (albeit Establishment) candidate who was.
'Puter won't blame voters for voting for change. Lord knows 'Puter tries as best he can in deep blue New York. But let's not inadvertently sabotage a campaign that was probably going to oust Nevada's contribution to interparty comity in Washington, Sen. Reid.
Next, Operative JNE offers a correction to 'Puter's pegging of Todd Akin as a Tea Party candidate, along with an elucidation of Missouri's primary system:
Honorable Sir,
Contrary to popular belief, Todd Akin was NOT the TEA party favorite.
He was in fact, endorsed by the "powers that be" until he swallowed his leg.
If Missouri did not have open primaries, he would not have been the nominee as the [Democrat] McCaskill campaign actively encouraged Democrats to vote for him.
And I'm sorry you had trouble with another doctor. But, as Dr. J has undoubtedly told you, we tend to be full of ourselves (and oftentimes something else).
Your loyal servant,
[Operative JNE]
Open primaries strike 'Puter as a relic of some forgotten past. What's the theory behind letting people with political interests adverse to the party holding the primary vote, especially in a swing state? Fairness? McCaskill's a horrible senator, and that's saying something. She's reliably hard left, despite the fact that Missouri's solidly middle of the road, when everything's averaged together.
'Puter thanks both operatives for writing in. There will be extra rations for you this week!

Always right, unless he isn't, the infallible Ghettoputer F. X. Gormogons claims to be an in-law of the Volgi, although no one really believes this.
'Puter carefully follows economic and financial trends, legal affairs, and serves as the Gormogons' financial and legal advisor. He successfully defended us against a lawsuit from a liquor distributor worth hundreds of thousands of dollars in unpaid deliveries of bootleg shandies.
The Geep has an IQ so high it is untestable and attempts to measure it have resulted in dangerously unstable results as well as injuries to researchers. Coincidentally, he publishes intelligence tests as a side gig.
His sarcasm is so highly developed it borders on the psychic, and he is often able to insult a person even before meeting them. 'Puter enjoys hunting small game with 000 slugs and punt guns, correcting homilies in real time at Mass, and undermining unions. 'Puter likes to wear a hockey mask and carry an axe into public campgrounds, where he bursts into people's tents and screams. As you might expect, he has been shot several times but remains completely undeterred.
He assures us that his obsessive fawning over news stories involving women teachers sleeping with young students is not Freudian in any way, although he admits something similar once happened to him. Uniquely, 'Puter is unable to speak, read, or write Russian, but he is able to sing it fluently.
Geep joined the order in the mid-1980s. He arrived at the Castle door with dozens of steamer trunks and an inarticulate hissing creature of astonishingly low intelligence he calls "Sleestak." Ghettoputer appears to make his wishes known to Sleestak, although no one is sure whether this is the result of complex sign language, expert body posture reading, or simply beating Sleestak with a rubber mallet.
'Puter suggests the Czar suck it.