Liberals Project Their Partisan Racism on Conservatives: NYT Editors Edition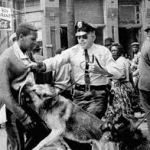 Requiring voters to produce identification showing
they're eligible to vote is the indubitable moral
equivalent of Bull Connor's reign of terror against
Blacks in Jim Crow Alabama. At least, if you're the
liberal genii populating the NYT's editorial board.
If you think it's important to require voters to produce identification proving citizenship to ensure the sanctity of the ballot box, you're a racist RETHUGLIKKKAN!1!one!! who probably voted for BUSHITLERBURTON!!1!1!eleventy!!!.
At least, that's the conclusion the geniuses on the New York Times editorial board reached after extensive logical analysis. There is no possible flaw in the New York Times editors' logic. After all, they're the New York Times editors, and therefore incapable of errors of any kind.
Behold, the flawless logic emanating from New York Times headquarters, and bow in reverential awe!
Under the Constitution, states have the power to decide who may vote, while the federal government has the final say in how, where and when voting occurs.
But the legal dispute should not distract anyone from recognizing the underlying purpose of laws like these and their close relative, voter ID laws. They are intended to keep eligible voters from the polls.
Sure, the Constitution says states are free to require voters to prove they are qualified to vote.

And sure, the Supreme Court held in

Crawford v. Marion County Election Board

, 553 U.S. 181 (2008) that it's perfectly constitutional to require voters to produce identification to vote. But racism, or something.
From the unquestioned constitutionality of voter identification laws, the New York Timeseditors make the following unassailable conclusions:
Conclusion One:
Republican lawmakers who work to impose higher bars to voting — either through proof-of-citizenship or voter ID laws — are well aware that many of those otherwise-eligible voters who struggle to come up with the required documents, which include a birth certificate, passport or driver's license, are more likely to vote Democratic.
Conclusion Two:
In recent months, it seemed that judges were beginning to see through the pretense of such laws, whose proponents insist they are necessary to protect "election integrity" despite the lack of any significant evidence that voter fraud of any kind exists.
Conclusion Three:
Republican-controlled state legislatures could respond to their aging, shrinking voter base by appealing to a wider range of voters. Instead, they write off entire segments of the public and then try to keep them from the polls, under the guise of battling fraud and illegal immigration. The courts have more than enough evidence by now, and they should see this ruse for what it is.
Permit 'Puter to translate from Liberalese to English for you.
Conclusion One:
Voter ID laws would prevent ineligible voters from voting, and the New York Times can't have that because it believes felons and illegal aliens will vote Democrat. Or, alternatively, old people and poor people are too stupid to figure out how to get a state identification card even though they've managed to navigate the tangled application process for Social Security, Medicare, Medicaid, disability and welfare programs.
Conclusion Two:
Some federal judges are still too dense to see the Constitution is a living document, meaning it must be interpreted in such a way as to validate liberal policy preferences, regardless of its text.
Conclusion Three:
Republicans are racist bastards who hate all Americans who aren't white.
Perhaps the New York Times editors would be better served by turning their keenly honed ability to find racism in service of political agendas inward. A good place to start would be its own editorial staff.

Always right, unless he isn't, the infallible Ghettoputer F. X. Gormogons claims to be an in-law of the Volgi, although no one really believes this.
'Puter carefully follows economic and financial trends, legal affairs, and serves as the Gormogons' financial and legal advisor. He successfully defended us against a lawsuit from a liquor distributor worth hundreds of thousands of dollars in unpaid deliveries of bootleg shandies.
The Geep has an IQ so high it is untestable and attempts to measure it have resulted in dangerously unstable results as well as injuries to researchers. Coincidentally, he publishes intelligence tests as a side gig.
His sarcasm is so highly developed it borders on the psychic, and he is often able to insult a person even before meeting them. 'Puter enjoys hunting small game with 000 slugs and punt guns, correcting homilies in real time at Mass, and undermining unions. 'Puter likes to wear a hockey mask and carry an axe into public campgrounds, where he bursts into people's tents and screams. As you might expect, he has been shot several times but remains completely undeterred.
He assures us that his obsessive fawning over news stories involving women teachers sleeping with young students is not Freudian in any way, although he admits something similar once happened to him. Uniquely, 'Puter is unable to speak, read, or write Russian, but he is able to sing it fluently.
Geep joined the order in the mid-1980s. He arrived at the Castle door with dozens of steamer trunks and an inarticulate hissing creature of astonishingly low intelligence he calls "Sleestak." Ghettoputer appears to make his wishes known to Sleestak, although no one is sure whether this is the result of complex sign language, expert body posture reading, or simply beating Sleestak with a rubber mallet.
'Puter suggests the Czar suck it.