Dr. K on our distinct lack of feck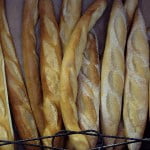 A typically well-written article which wraps up with some Œc. Vol.esque suggestions for what to do. But the beginning is great.
Early in the Ukraine crisis, when the Europeans were working on bringing Ukraine into the EU system and Vladimir Putin was countering with threats and bribes, one British analyst lamented that "we went to a knife fight with a baguette."
That was three months ago. Life overtakes parody. During the Ukrainian prime minister's visit to Washington last week, his government urgently requested military assistance. The Pentagon refused. It offered instead military ration kits.
Putin mobilizes thousands of troops, artillery, and attack helicopters on Ukraine's borders and Washington counters with baguettes, American-style. One thing we can say for sure in these uncertain times: The invasion of Ukraine will be catered by the United States.
The next few paragraphs may be better.

Don't ask impertinent questions like that jackass Adept Lu.