Dr. D. on Stefan Zweig, 2004.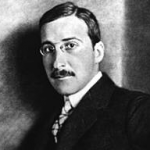 Two main themes pervade Zweig's writings. The first is the part that passion plays in human life. If reason, as Hume says, is and should be the slave of the passions, how can we control and reconcile our passions so that we may live decently together in society? And if, as Zweig's work suggests, the need for control and the need for expression are in constant tension, there is no abstract or perfect solution to man's existential plight. Any attempt to resolve the contradictions of our existence by dogmatic reference to a simple doctrine (and, compared with life, all doctrines are simple) will thus end in monomania and barbarism. And that reality informs Zweig's second preoccupation: the destruction of civilization by political dogma—as exemplified by the two world wars that destroyed Zweig's world and led him ultimately to commit suicide.
Worth your time, if you're feeling literary or contemplative or, perhaps, melancholy.

Don't ask impertinent questions like that jackass Adept Lu.