Conservatives Still Outnumber Liberals, Not That You'll Hear It Anywhere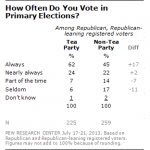 One of the Czar's favorite themes upon which he pounds his calloused fist is how the mass media—there is no point calling it the liberal mass media anymore, is there? Really? Anyone with a three-digit IQ knows this by now—fails to understand how conservatives think. And it shows up in the goofy way they ask poll questions ("Are you for the Affordable Healthcare Act or do you like children dead in the streets?") and how they puzzle over seemingly incompatible results. Oh, by "incompatible," we mean "incompatible with liberal thought."
Operative BJ sent a superb example of this from the usually left-leaning Pew Research organization. Pew does very good polling, but their analysis tends to appeal more to ABC News writers than it does, say, Townhall.
Pew is puzzled by a poll of political party posturing, a sentence that makes the Czar love writing. Doesn't look like much, but here it is:
The enigma here is in the first sentence of the accompanying analysis: "rank-and-file Republicans [are] in agreement that their party needed to address major problems in order to do better in future presidential elections, but there was division over exactly how the party needed to change."
What are those major problems? Well, that independents are voting conservative, apparently. And what is the big factor? "A major factor in this discussion is the influence Republicans and Republican-leaning independents who agree with the Tea Party exert in primary elections. Aside from challenges to Republican incumbents in state and congressional races in 2012, the 2012 GOP presidential primary season was marked by the rise and fall of a series of candidates who appealed to the party's more conservative wing."
Got it: the major problem the Republicans need to overcome is this Tea Party winning so many primary elections. The numbers show it: Tea Party conservatives tend to show up in greater numbers than moderate Republicans who don't give a hoot about much. Earth shattering.
The genuinely interesting finding is mentioned at the bottom of the analysis: although most Republican voters are not overtly connected to the Tea Party, the Tea Party votes in enough numbers to even it out. This evidently is the major problem the Republicans need to iron out.
If you fear conservatives, this analysis makes total sense. If you are a conservative, well, the notion is fairly insulting.
But rarely stated is the most terrifying poll that liberals continually reject, and you have to look for them to find them: America, do you consider yourself a conservative or a liberal?
Poll after poll, Americans overwhelmingly put liberals in the minority. Gallup even has a rewarding headline on their most recent poll—which you never saw on the news—"Liberal self-identification edges up to new high." That new high, as you have already predicted, is only 23% of the country.
Scary, eh? For all that liberal posturing and all the Democrat's pounding shoes on tables, Americans by and large do not care for liberal politics. Given a choice between being a conservative or a moderate (whatever that means; the Czar assumes this is the percentage of the country that doesn't actually know the difference, since it always seems to match up with the percentage who doesn't know what Obamacare is or hasn't heard about Benghazi, et cetera), Americans are more likely to pick conservative.
Yes, there are probably more liberals than what you see here, who call themselves moderates but vote, act, think, act, and do liberal every time. But likely too is a larger number of conservatives who call themselves moderate because they don't want hate mail coming to their house, threatening their kids.
These same percentages hold true, at least anecdotally, for union members: the number of die-hard, all-union, all-the-time members is about 18-24%, whereas the remainder would be totally happy seeing the union dissolve and dues go back into the workers's pockets.
Know what is even scarier? Check out this graph:
In other words, there are more independents willing to vote as conservatives now and fewer willing to vote as liberals.
And the scariest part of this? This is not a recent thing—despite the pounding of liberalism we receive from television, movies, news, magazines, popular culture, music, and more, America remains a distinctly conservative country. And nothing causes moderates to admit they are actually conservatives like hearing they aren't alone out there.
Yes, Mr. and Mrs. Moderate—you know you lean conservative and it's okay to come forward.

Божію Поспѣшествующею Милостію Мы, Дима Грозный Императоръ и Самодержецъ Всероссiйскiй, цѣсарь Московскiй. The Czar was born in the steppes of Russia in 1267, and was cheated out of total control of all Russia upon the death of Boris Mikhailovich, who replaced Alexander Yaroslav Nevsky in 1263. However, in 1283, our Czar was passed over due to a clerical error and the rule of all Russia went to his second cousin Daniil (Даниил Александрович), whom Czar still resents. As a half-hearted apology, the Czar was awarded control over Muscovy, inconveniently located 5,000 miles away just outside Chicago. He now spends his time seething about this and writing about other stuff that bothers him.