Bear Watch '14: Russian troops massing on Ukraine's borders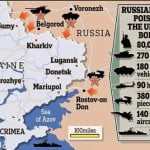 Via Jim Geraghty, the Daily Mail reports Ukraine remains under the sword of Damocles.
Ukraine warned last night that 80,000 Russian troops were massing on its borders and could invade – as world leaders told Vladimir Putin to back off. A senior security chief in Kiev said Moscow could launch a full-scale invasion and Russian troops would be in the Ukrainian capital within 'two or three hours' of the order to advance. Photographs of Russian tanks and armoured personnel carriers close to Ukraine's borders added to tensions. Last night senior British officials told the Mail they had received reports about Russian troops massing on the border since Tuesday and were concerned by the show of force. British intelligence is unsure whether the movements are intended to back up the annexation of Crimea, preparation for an invasion or simply defensive.
I'm pretty sure British intelligence knows as well as you do that armor and missiles are not defensive systems. Such a build-up is either preparatory to invasion or a naked threat thereof. Also via Jim G, more ominous saber-rattling from Vlad.
On Tuesday, Russia launched a four-day military exercise of its elite airborne troops. "In the course of the exercise, for the first time in over 20 years, the airborne deployment of 3,500 paratroops will be conducted," said a statement posted on Russian Defense Ministry's official website. The operation will involve about 4,000 troops and 36 planes, said the statement, which didn't specify the location of the exercise. Russia has deployed a force of 220,000 troops, 1,800 tanks and over 400 helicopters close to Ukraine's border. Its neighbor has about 41,000 troops, of which only 6,000 were "really combat ready," Ukraine's acting Defense Minister Igor Tenyukh told the national parliament Tuesday, UNIAN news agency reported. "This [Russian] force by several times exceeds the armed forces of Ukraine," Tenyukh said.
Even factoring in the defense minister of Ukraine may have an interest in exaggerating the Russian forces' size (though I have no evidence he is), the imbalance of forces is obvious and, one expects, qualitative as well.
Do remember, as we pointed out to you, Russia's foreign ministry has already issued a preëmptive justification for invading and annexing Eastern Ukraine to protect the Sudeten Volksdeutsche ethnic Russians from "lawlessness."
Also, anyone think the West is up for stopping Putin if he gives the green light? More importantly anyone think Putin thinks the West is up for it? What's that tag down there? Oh yeah, the Appearance of Weakness. What does that do? Say it with me…"Invites Aggression." How long have I been banging on about that? Not quite ten years at Troy, but just call me Cassandra.
Wait, don't. I don't have the figure to pull off the dress.

Don't ask impertinent questions like that jackass Adept Lu.