Bear Watch '14: Oh, look, here's a blatant act of war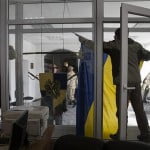 Russian forces storm Ukraine naval HQ in Crimea
Russians taking down the Ukrainian flag

SEVASTOPOL/SIMFEROPOL, Ukraine (Reuters) – Russian troops and unarmed men stormed Ukraine's naval headquarters in the Crimean port of Sevastopol on Wednesday and raised the Russian flag in a tense but peaceful takeover that signals Moscow's intent to neutralize any armed opposition.
Russian soldiers, and so-called "self-defense" units of mainly unarmed volunteers who are supporting them across the Black Sea peninsula, moved in early in the morning and quickly took control.
[…] Crimea's pro-Moscow leader suggested the incident was the fault of "provocateurs" opposed to the annexation of the region to Russia. "Unfortunately, two people were killed," he said, speaking in Moscow.
"I'm sure we will find these scoundrels. The security service of the Crimean Republic is investigating."
Read on, if you've got a strong stomach.

Don't ask impertinent questions like that jackass Adept Lu.