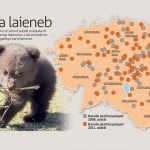 That's Estonian for "BEAR!"
Remember, way back, say, two weeks ago, when I said this? "Force people to think about what our options would be in case of a Russian 'intervention' in a NATO ally to 'protect' a Russian minority."
My God, their spies are everywhere!
And cute!
This is what I was talking about:
Russia signaled concern on Wednesday at Estonia's treatment of its large ethnic Russian minority, comparing language policy in the Baltic state with what it said was a call in Ukraine to prevent the use of Russian.
And just in case we didn't get the message: via Jim Geraghty, here's the saber rattling very loudly, pro forma diplomatic lie aside.
Russia's military started large-scale aviation exercises in the northwest on Wednesday, officials said, close to Baltic ex-Soviet republics that are members of NATO and wary of Russia after its annexation of Crimea. The exercises involving jet fighters and bombers were being conducted in regions that do not border Ukraine. A senior Russian military source said they had been planned in December and had no political significance.
Nakedly imperialist, this stuff is very popular back in the foreigners-took-our-greatness Reich Russian 'Republic', as I also mentioned:
"Russian revanchism is one way Putin plays to the cheap seats, a foreign-political equivalent of shirtless crocodile-punching photo ops. It's also no doubt deeply satisfying to the former Soviet cadres among the siloviki, the 'strongmen' who are the core of Putin's gangster régime, allowing them to feel they're rebuilding a great edifice that Gorbachev and Yeltsin carelessly wrecked."
While odds are, in the immediate term, this is just Putin swinging his Chekist хуй, one shouldn't forget that it's been public knowledge for about fifteen years that Putin hates Estonia and Estonians whom he blames for turning his NKVD dad over the to Germans during the war (which is debatable, see the previous link). He mocks them. His government rebuked them for moving a "Heroic Soviet Soldier" war memorial. This all came up again about four years ago with Wikileaks, so really, let's not act surprised.

Don't ask impertinent questions like that jackass Adept Lu.