A Drop In The Bucket OR Fontastic Science!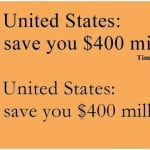 "Dr. J. would return that $400M to the taxpayers. 'Puter would be a better government steward of it than the Democrats." – Confucius (The Notorious OEV)
Gentle Readers,
Dr. J. has been hideously busy of late, and as a consequence, he's been typing his posts a mile a minute, resulting in some unclear prose and typos (some of which are tragically firmly ensconced in Dr. J.'s spell checker) much to the chagrin of Royal Copy Editor, Operative BG and Friend of the Gormogons, Mark Spahn (West Seneca, NY).
While 'Puter channels Bob Dole and Jack Kemp today, if only in a Trojan Horse manner, about reining in the welfare state, Dr. J. wanted to showcase a suggestion so simple, only a child could come up with it.
Dr. J.'s fiscal hawk lefty environmentalist friend from high school posted this article from CNN to his FB page.
'Puter's secret identity, Lance Manion, then reposted it on Facebook while Dr. J. was trapped in meetings earlier this afternoon, not in a position to post. Dr. J. only says this so that 'Puter won't cry PLAGARIZMSES!!>!>!!!oNE!!!@!!
The long and short of the article is that most federal documents are printed in a font that uses quite a bit of ink. A student did an analysis that suggested that changing the font to Garamond would save the federal government $400M.
Suvir Mirchandani, a Pittsburgh area middle schooler was thinking locally when he asked the question, "Is there a way we can use less paper/ink at our school?" Everyone talks about paper, so he focused on the more pricey ink side of the equation.
His hypothesis was that an alternate font to Times New Roman might save ink, and so doing, save money for the school district. His work was published in the Journal for Emerging Investigators, a Harvard based journal for middle and high school student research. He tested his hypothesis and published his findings. His paper is an interesting read of someone actually using the scientific method to come up with a recommendation for cost cutting, saving local taxpayers an estimated $21K. He did some nice things in his analysis. First he sampled what fonts were used by the teachers. Far too many teachers use Comic Sans and should be shot for doing so. He looked at mac. Furthermore he demonstrated cost savings of $10K with universal acceptance of New Times Roman. The highlight for Dr. J. was his diverse reference list.
Conservatives would say Comic Sans is the Robert Byrd of fonts. Liberals would say it is the coal plant of fonts. Either way, the science is settled. Friends don't let friends use Comic Sans.
He did a follow up paper which is what made news with CNN. In this he took sample government documents and made an analysis of Garamond, Times New Roman and Century Gothic compared to the original font. Garamond blew the there fonts out of the water.
While the impact of the study, estimated savings of $400M is a drop in the bucket. We need more and more drops in the bucket.
Kudos to Mr. Mirchandani for his efforts. He developed a hypothesis, tested it, and then followed up with a larger scale study based on positive findings. STEM at its finest. More kids should show this initiative. Furthermore Kudos to Harvard (yes, hell is freezing over) for creating this journal as an outlet for research performed by young people.
His steps, however are only the beginning. He needs to go back and see if implementation of his strategy brings about savings at the local level. Then, he can make a compelling case for policy change at the federal level. Nothing worse than implementing a strategy based on estimates to find that it doesn't work out.
As we have learned with cancer drugs, even the best animal and Phase I data can fall apart in Phase III.