The Terrierists win, or What does the Fox Terrier say?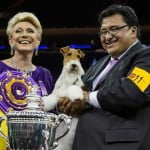 Gentle Readers,
We have a winner in the Westminster Dog Show, and the Best in Show was a Fox Terrier named Sky. The Terrier mafia strike again.
Her time down the hill wasn't the best, but her reverse triple copter aerial was something to behold.
They look much better not all dolled up:
The Cavalier that won best of breed was second to a Miniature Pincher is featured below. Within the greater dog show community, there is an excessively strong bias towards broken coats (Blenheims and Tri-Colors) over solids (Rubys and Black and Tans).
GCH Grantilley Galaxy Moon
The reason for this post is not only to follow up on the Westminster Dog show, but to post a poignant reply from the one and only Retired Spook:
Dear Dr. J;
Your comments about puppy mills touched a bit of a nerve, since one of our four dogs is a puppy mill survivor.
The other three are foundlings, ranging from Roscoe, a 14-year-old pit bull mix that I found while hunting, to Blue, a 12-year-old Blue Heeler/Lab mix, and Molly, who is almost 1 year old, and a (maybe? probably?) Maltese/Yorkie mix. Roscoe was found in a national forest, a good 10 miles from the nearest paved road or human habitation, so whoever dumped him didn't plan on him being rescued. Blue was pulled out of a dumpster, and Molly was found while she was trying to drag a piece of roadkill off the pavement of a country road.
But in many ways, the puppy mill dog, a purebred Maltese, is the saddest of them all. From the time she was weaned, she spent most of her first year in a 2-foot-by-2-foot cage, being taken out once a week for grooming. She was bred the first time she went into season, probably about 9 months old. When the delivery required a C-section (to save the pups) she was spayed, and being non-fertile, was useless in a puppy mill. Once her pups were weaned, she was sold to us for $100 dollars, because The Boss was the only one who could see anything other than an untrained and slightly neurotic little white dog.
Abby's almost 8 now, and worships the ground The Boss walks on, which is reason enough to keep her around. But in the few months that we've had Molly, Abby has actually learned to do things that other dogs take for granted. She plays now, either with us or with Molly (she's never played with another dog before) and chases chickens and armadillos. She has discovered the joys of rolling in dead stuff (okay, that's not too cool), and digging for moles in the back yard. In short, she's learning to do all the things that a normal puppy would learn in their first 6 months. It's just taken her almost 8 years to learn it.
And let me be the first to say, that while I am not a fan of small dogs (Molly's the first dog I've ever had that weighed less than 50 lbs.) , Abby is a pretty neat little dog, and Molly just owns me! The Boss is G-d, as far as Abby is concerned, and I'm but a poor substitute, and the reverse is true for Molly. So it evens out.
Anyway, just wanted to share this, because not very many people understand the evils of puppy mills. Thanks for your patience,
Best wishes,
Retired Spook
Thanks for writing back RP!
There is a special place in heaven for you and the Boss for all you do for the least among the puppy crowd.
When our friend passed away, his family requested donations in lieu of flowers to the Cavalier Rescue program. The stories are heart breaking, and you just want to rescue them all, but while some of the stories are mild (the old lady who died, found wandering the streets, the people who moved to an apartment where no dogs are allowed, the baby is trying to eat the dog's tail), others are ridiculous like complaints about Rita from Sanibel, Florida snoring. Perhaps if the owners didn't let her get to 27 lbs, she wouldn't snore (healthy weight is not usually more than 18 lbs). What chaffs Dr. J. with the puppy mills is that they will breed the dogs until they're no longer useful, typically under lousy conditions, then dump them on the 'rescue society' as if the dog is their problem. They're no more than bioreactors for the owners.
Our friend was a very thoughtful breeder. No more than 4 litters per bitch, and just as picky about the owners as he wanted the owners to be about him. Indeed, one of Lady J.'s litter mates lives across the street from his farm.
His dogs were his children and were lived in a loving home with plenty of space to run free during the day, and with dedicated indoor space in the house.
He was very picky about charity. He was a proponent of local humane societies over the ASPCA and national Humane Society, as the dollars go farther locally.
Your letter reminds us to be very particular with breeders, and to consider rescuing when we can!