"The Man" Isn't To Blame For All Failures: Education Edition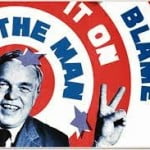 It's always convenient to blame your personal failures
on an omnipotent-yet-nebulous third party. As a
representative of middle aged, taxpaying white guys
with jobs, 'Puter shares our happiness you have found
a way to work us in to your pathological denial issues.
'Puter and a good friend of his* (a high school physics teacher) got into a bit of back and forth over this piece in the New York Post on Murry Bergtraum High School for Business Careers.
The New York Posttook the school to task for systematically failing its students over the course of many years, and with good reason. The school has a 51.2% graduation rate, graded an "F" by the Department of Education.
In a fit of pique, an Orwellian sounding "community coordinator" (paid $52,332 per year, plus benefits, plus work on the side as a "branding consultant") pressed students to write letters defending their beloved Murry Bergtraum High School and its stellar learning environment.
Eighteen kids wrote in (via email), unwittingly making the New York Post's case for it. To call the students' writing functionally illiterate would be to demean the illiterate. At least the illiterate know they're illiterate.
'Puter forwarded a link to the article to his friend, stating that 'Puter blamed "students, parents, teachers, administrators and the school board."
'Puter's friend wrote back asking 'Puter to justify "blaming anything but the system that created this fiasco."
Stepping up the plate, 'Puter wrote back as follows.
·
The head administrator you reference isn't the principal or administration in any traditional sense. He/she (Kian Brown) is a "community coordinator," which seems to be the sort of useless "Asset Coordinator" position that [name redacted] occupies in [friend's school district employer]. Mr./Ms. Brown is a PR flack who was trying to prevent further damage to the school.
·
I blame the kids for being so poorly educated that they can't write a basic complaint letter. Worse, the kids are apparently unaware of how uneducated they are. The kids' letters weren't critiqued because they weren't formatted properly; they were rightly lambasted because they were incoherent. Many of these "kids" aren't kids anyway. They're 18 years old (or older). Old enough to vote (God help us) and old enough to be drafted. But I don't blame the kids the most.
·
I blame teachers who work in a failing/failed system who don't insist on change. 80% of NYC public school *graduates* attending CUNY (not exactly the public Ivy it once was (really, it was post-WWII)) require remedial coursework.
·
I blame the union for protecting bad teachers, pushing for "reform" that benefits only teachers and not students, and siphoning money out of the classroom through a combination of overly generous benefits and antiquated pay structure that makes no allowance for performance.
·
I blame administrators for tolerating piss poor results year after year, whether because the administrators are incompetent, uncaring, lazy or some combination of the above.
·
I blame parents (more likely, parent) for not being all over the school for doing a crappy job of educating their children. Many of these parents also don't value education in the first place, fail to read to their kids when young or to take an active role in their kid's education, setting the kid up to fail from the start.
·
I blame NYC and NYS residents for putting up with a public school system (and social structure) that fails the neediest among us, and has failed them for generations.
The "system" isn't just the idiot Regents and NYSED in Albany. It's not just the idiots in City Hall. It's all of us: kids, teachers, parents, administrators and citizens.
Education is the last great Civil Rights struggle, and we're failing.
At least, that's my opinion.
As 'Puter said, education is the last real civil rights issue of our day. Our failure to address public education's myriad failures is shameful.
Our continuation of the same failed education models year after year, generation after generation, run by the same know-nothing "educators," corrupted by the status-quo unions, is criminal.
At least, that's 'Puter's opinion.
* This is the same friend with whom 'Puter has started a podcast series, the first of which should be available on iTunes soon.

Really.

Always right, unless he isn't, the infallible Ghettoputer F. X. Gormogons claims to be an in-law of the Volgi, although no one really believes this.
'Puter carefully follows economic and financial trends, legal affairs, and serves as the Gormogons' financial and legal advisor. He successfully defended us against a lawsuit from a liquor distributor worth hundreds of thousands of dollars in unpaid deliveries of bootleg shandies.
The Geep has an IQ so high it is untestable and attempts to measure it have resulted in dangerously unstable results as well as injuries to researchers. Coincidentally, he publishes intelligence tests as a side gig.
His sarcasm is so highly developed it borders on the psychic, and he is often able to insult a person even before meeting them. 'Puter enjoys hunting small game with 000 slugs and punt guns, correcting homilies in real time at Mass, and undermining unions. 'Puter likes to wear a hockey mask and carry an axe into public campgrounds, where he bursts into people's tents and screams. As you might expect, he has been shot several times but remains completely undeterred.
He assures us that his obsessive fawning over news stories involving women teachers sleeping with young students is not Freudian in any way, although he admits something similar once happened to him. Uniquely, 'Puter is unable to speak, read, or write Russian, but he is able to sing it fluently.
Geep joined the order in the mid-1980s. He arrived at the Castle door with dozens of steamer trunks and an inarticulate hissing creature of astonishingly low intelligence he calls "Sleestak." Ghettoputer appears to make his wishes known to Sleestak, although no one is sure whether this is the result of complex sign language, expert body posture reading, or simply beating Sleestak with a rubber mallet.
'Puter suggests the Czar suck it.