Rant: 'Puter's Problem With The Tea Party, And With Twitter Generally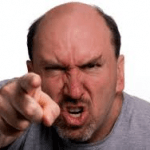 This is what many of you come across as on Twitter.
Smart choice, because people are totally way more
convinced at the merits of your argument when you're
yelling at and belittling them.
'Puter got in a bit of a dustup on Twitter yesterday with a medical doctor from Texas regarding the U.S. District Court declaring unconstitutional Texas' law banning homosexual marriage. 'Puter's beef had nothing to do with Texas' ban on gay marriage as policy, and everything to do with his interlocutor's ignorance of the Constitution.
Here's the tweet that set 'Puter off, cleaned up slightly to remove Twitterese:
Why don't federal judges act as though they believe in Democracy? Why not pass laws through Peoples' elected Legislatures, not nullify them?
'Puter replied he was sympathetic to the doctor's position on legislating from the bench, but stated it was the courts' job to determine the constitutionality of laws.
The doctor shot back that courts determining constitutionality of legislative enactments amounted to "oligarchy" and nullification of our "Republic" and our "democracy."
This exchange went on for a while longer, with 'Puter (relatively) patiently explaining judicial review and separation of powers as part of our constitutional Republic's system of checks and balances. The good doctor, for her part, alleged courts "must prove unconstitutionality" of the laws it strikes down and wondered aloud "[h]ow limited is ['Puter's] vision of Representative democracy?"
Until this point, 'Puter had been cutting the good doctor a break, assuming that as with most non-lawyer types, she was simply misusing the legal term "burden." But when the doctor cast aspersions on 'Puter's understanding of American government, 'Puter went all Marbury v. Madison on her ass.
And that, in one incident, is a neat summation of 'Puter's issues with the Tea Party and Twitter. 'Puter's sympathetic to many of the Tea Party's stated goals. 'Puter loves small government, fiscal responsibility, abortion restrictions, sensible immigration laws, Second Amendment rights and voter identification requirements.
But Sweet Baby Jesus in the Manger, does a relatively small portion of Tea Party sympathizers do everything it possibly can to alienate everyone, including those who agree with them.
It's not merely the ALL CAPS YELLING or the incoherent, reactionary statements. It's the assumption of malice in their opponents (not to mention their friends). It's the unnecessary belittling of those who deviate from their beliefs, even in the slightest.
It's the all-or-nothing ideological purity tests.
It's the rabid detachment from political reality.
If you assume, right off the bat, that someone who thinks differently from you is evil, you're doing it wrong. How on God's green Earth are you going to learn anything if you never listen to anyone with whom you disagree? Too, you're doing everything you claim to hate about liberals, adopting their Alinskyite tactics, "naming, fixing, shaming," or whatever the mantra is these days.
You don't beat political opponents by out-assholing them, you beat them by outthinking them.
Much of the Tea Party isn't as bright as it thinks it is.
Witness, for example, 'Puter's doctor. Instead of realizing "hey, I might be in over my head with someone who actually does law for a living," the good doctor instead determined 'Puter was an idiot who had no understanding of the Constitution.
In fact, it was the good doctor who fundamentally misunderstands the constitutional role of courts in America.
It's almost as if she were proud of her ignorance. Know what you don't know, and if you're talking about something you're not expert in, you may want to admit the possibility you could be wrong.
Hell, admit the possibility you could be wrong in everything, even in areas you are expert in.
'Puter's been irked of late, too, at the rabid fans of Ted Cruz.
Ted Cruz is the Tea Party's answer to RAWN PAUL!!!1!!one!1!
God forbid anyone, anywhere, ever say anything the slightest bit critical of Sen. Cruz or former Rep. Paul. The Cruzifixers and Paulistas come out of the woodwork, Hell-bent on saving their heroes from the unbearable weight of criticism, especially when the criticism is merited.
Does this faction of the Tea Party ever sit back and think to themselves maybe all they've done is traded one snake oil salesman for a different snake oil salesman? "Shut up, 'Puter! This guy's totally better! He goes to ELEVENTY!"
All politicians are looking for power, and all of them will tell you what you want to hear to get or keep that power.
The last decent politician was Cincinnatus, and he died a few millennia ago.*
And for Christ's sake, cut the crap with the ideological purity tests. So 'Puter's not necessarily anti-gay marriage. 'Puter sure as heck is with you on "gay marriage doesn't trump religious rights." Why alienate an ally on an issue? You don't have to agree with everyone on everything.
In fact, the world would be a boring place if we all agreed.
Just look at the liberals you claim have ruined everything good that ever happened in American ever.
If 'Puter hears one more person on his side of the aisle scream about what a bunch of sellout RINOs establishment Republicans are, he's going to nut punch you.
Remember, Republicans would currently control the Senate and Harry Reid would be sitting on his ass in East Bumf*ck, Nevada if it weren't for "true conservatives" who knew better than the establishment and nominated borderline lunatics for Senate races in 2010 and 2012.
Any Tea Party loudmouths want to step up and take credit for Christine O'Donnell in Delaware? How about Sharon Angle in Nevada? Ken Buck in Colorado ring any bells? And that's just 2010.
Good to see you drove out Maine's Sen. Snowe, a seat picked up by the Democrats.
Remember Todd Akin in Missouri? Or Richard Mourdock in Indiana?
Yeah. That's how many seats? 'Puter counts six.
And when pointy-headed 'Puter does that math thing, that means the Republicans would be sitting on a Senate majority right now instead of scraping to maybe – and it's still a big maybe – take back the Senate in 2014.
Look.
'Puter doesn't hate the Tea Party.
'Puter's sympathetic to the Tea Party's core causes, as he said before. But until the Tea Party gets its collective act together, 'Puter's just about done listening to its pie in the sky plans. Win some local elections. Get some seasoning. Get some candidates who aren't easily caricatured by media as closet witches or rape apologists.
Until then, Tea Partyers may want to accede, on occasion, to establishment Republicans on certain matters.
Washington doesn't work the way you think it should.
Washington works the way it does, and there's so many people invested in keeping Washington working the same way, it's nearly impossible to change. Is that to say we shouldn't try to change Washington? No, it is not. It's simply that it might be a good idea to get some people who know how Washington works on your side. It's much easier to change it from the inside than to rail against it from outside.
How does Twitter fit into 'Puter's rant? Twitter enables jerks to spout garbage and bully people anonymously. People do and say things they'd never do or say in a million years if people knew who they were. Twitter has given a megaphone to idiots, amplifying their irrational pipe dreams and ignorant beliefs.
It's allowed the media to portray conservatives as backwards, rape apologizing, Obama obsessed troglodytes.
So what's 'Puter's solution? 'Puter doesn't have one. Twitter's full of idiots now, and it'll be full of idiots 10 years from now, provided it hasn't gone the way of My Space.
But 'Puter does know a few things.
If you don't know what you're talking about, shut up and listen. You may learn something and you definitely won't embarrass yourself.
Even if you're right in concept (Tea Party conservatives), you still need someone to implement the concept (Establishment Republicans).
Don't let dumbasses be the face or voice of your organization. One dumbass makes us all look bad.
Remember that not everyone agrees with you. Tea Party conservatives are a relatively small fraction of the conservative part of the Republican Party.** Most of American, therefore, disagrees with you.
Don't make enemies unnecessarily. You may need the person you're blithely pissing off today for something really important tomorrow.
As a corollary, a person who agrees with you on an issue is your friend on that issue, even if you disagree on nearly everything else.
Life is not as black and white as you want it to be. There's a whole lot of gray in the world to deal with, whether you like it or not.
Be nice. Don't yell. Smile. People like that. And we will need people's support to clean up after Obama.
'Puter's tuckered out.
That didn't start out to be a rant, but it sure ended like one.
Enough ranting for today.
Get back to your work or whatever it is you do to kill time between meals.
* Look Cincinnatus up your own damned selves. 'Puter's not your research assistant.
** Shut up. You are too Republicans. Who else are you going to vote for?*** And don't say "I'll stay home on election day." That worked so well in 2012, didn't it? By the way, 'Puter forgot to write you a thank you note for reelecting President Obama.
*** And if you say "We'll form a third party and fix your little red wagon, 'Puter!", you're an even bigger moron that 'Puter thought in the first place.

There aren't enough conservatives in the country to win outright, which puts you right back in the same position: coalition government with Republicans.

Always right, unless he isn't, the infallible Ghettoputer F. X. Gormogons claims to be an in-law of the Volgi, although no one really believes this.
'Puter carefully follows economic and financial trends, legal affairs, and serves as the Gormogons' financial and legal advisor. He successfully defended us against a lawsuit from a liquor distributor worth hundreds of thousands of dollars in unpaid deliveries of bootleg shandies.
The Geep has an IQ so high it is untestable and attempts to measure it have resulted in dangerously unstable results as well as injuries to researchers. Coincidentally, he publishes intelligence tests as a side gig.
His sarcasm is so highly developed it borders on the psychic, and he is often able to insult a person even before meeting them. 'Puter enjoys hunting small game with 000 slugs and punt guns, correcting homilies in real time at Mass, and undermining unions. 'Puter likes to wear a hockey mask and carry an axe into public campgrounds, where he bursts into people's tents and screams. As you might expect, he has been shot several times but remains completely undeterred.
He assures us that his obsessive fawning over news stories involving women teachers sleeping with young students is not Freudian in any way, although he admits something similar once happened to him. Uniquely, 'Puter is unable to speak, read, or write Russian, but he is able to sing it fluently.
Geep joined the order in the mid-1980s. He arrived at the Castle door with dozens of steamer trunks and an inarticulate hissing creature of astonishingly low intelligence he calls "Sleestak." Ghettoputer appears to make his wishes known to Sleestak, although no one is sure whether this is the result of complex sign language, expert body posture reading, or simply beating Sleestak with a rubber mallet.
'Puter suggests the Czar suck it.